National Parks on the Air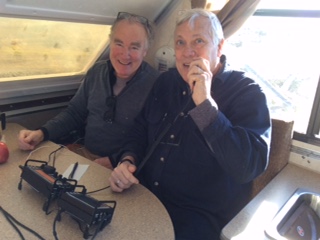 News Release Date:
February 1, 2016
Contact: Dave Carney, (520) 723-3172
Casa Grande Ruins on the Air with Amateur Radio
COOLIDGE, AZ–Clark Johnson, Amateur Radio Activator (Ham Radio Operator) using the call sign K7LRK, will be at Casa Grande Ruins National Monument on Wednesday, February 17, as part of the American Radio Relay League's National Parks on the Air program.Visitors will be able to hear Clark's transmissions and any replies, as well as learn about Amateur Radio. His transmitter, which is a small tabletop radio that only weighs 18 ounces and has an output power of 10 watts, is very versatile and portable. Clark will set up his radio in the park picnic area under the center covered ramada.
C.A.R.L. (Center for Amateur Radio Learning) and the Arizona Science Center will assist with providing brochures and activity handouts. Additional activators may be available to speak with visitors, answer questions, and permit a trial broadcast over the air. The activators plan to be set up from 10 am to 3pm.
Clark started enjoying Ham Radio pretty early, in the 1960's, and eventually qualified for an Advanced Call Identification. While living in Germany for 13 years he continued his involvement in Amateur Radio with a special call sign. Now retired from the University of Washington and living in Washington State's San Juan Islands Clark has more time for his hobby and is even 'taking it on the road' for the National Parks on the Air program.
Amateur Radio is a hobby and public service where people set up and use two-way communications equipment. Over 730,000 Amateur Radio operators are licensed by the Federal Communications Commission, and are trained in communications techniques and basic electronics theory.
Amateur Radio has offered worldwide public service during times of need for the past century, and is recognized by FEMA and the American Red Cross as a critical communications network during natural disasters and other emergencies. Temporary, portable operations are one of the ways in which ham radio operators train and prepare for such emergencies, and combine their recreational enjoyment of Amateur Radio with the great outdoors.
Casa Grande Ruins National Monument protects the multi-story Great House and the ruins of other ancient structures built by the people of the Sonoran Desert over 800 years ago.Established as the nation's first archeological reserve in 1892, the Ruins sparked the beginning of the archeological preservation movement in America.The Monument is open daily from 9:00 a.m. to 5:00 p.m. except for Thanksgiving and Christmas.Directions and additional information are available on the Monument's website, you may call (520) 723-3172, or follow us on Facebook by searching for Casa Grande Ruins National Monument.
-NPS-
Last updated: February 3, 2016