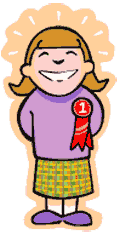 We've reached the final step of the scientific method. This is when a hypothesis is either accepted or rejected. If the conclusion means the hypothesis is rejected, then another hypothesis needs to be examined. If the hypothesis is accepted, then the explanation becomes a theory. In both cases, the conclusion should state all the findings so others can verify the results or explore some of the findings.
Betsy's ready to share her findings...
Betsy has conducted her experiments, and has concluded that shadows are caused due to a lack of light. Now Betsy needs to share her findings and let others try to support or reject them.