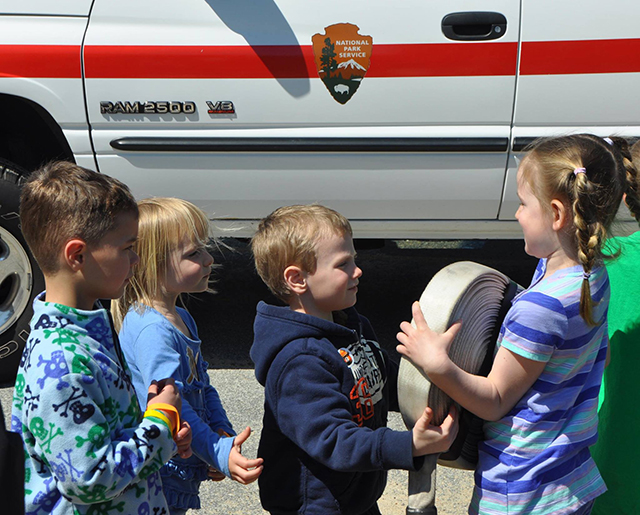 News Release Date:
March 31, 2017
Contact: Sue Moynihan, Chief, Interpretation and Cultural Resources Management, 508-957-0738
Across the country, hundreds of national park areas will celebrate National Park Week from April 15 to 24. This annual celebration provides the opportunity for parks to showcase their special features through engaging activities. At Cape Cod National Seashore, visitors and neighbors are invited to take a hike, touch a bucket loader, aim a fire hose, look for whales, climb a lighthouse, explore a pond, tour a whaling captain's home, view kids' artwork, and celebrate the history of wireless communication. All programs are free and open to the public. Many programs are geared towards local and visiting families enjoying spring break.  
A
Touch a Truck Junior Ranger
event is scheduled for 10:30 to noon on Wednesday, April 19 at the Salt Pond Visitor Center, 50 Nauset Road, Eastham. Park vehicles and tools will be assembled for touching, climbing on, and sitting in. Explore ATVs, aim a fire hose, check out a boat, and pose with heavy maintenance equipment. There may even be selfie opportunities with everyone's favorite furry firefighter!  
International Marconi Day
will be held on Saturday, April 22 at the Nauset Coast Guard Station at Coast Guard Beach, Eastham. Join licensed radio operators as they make contact with operators around the world. Practice Morse code on a "key," use signal flags, and learn about other signaling techniques. In addition, the film
Titanic
will show on April 15 at 1 pm at Salt Pond Visitor Center, and several other commemorative
Titanic
and radio events will occur between April 13 and 22.  
In Provincetown, the Province Lands Visitor Center will open for the season on April 15. Staff will be on hand to help with trip planning, and the popular spotting scopes will once again be in place for viewing whales. Rangers will lead whale walks, a hike through the Beech Forest, a pond exploration activity, and a walk to Race Point Light.  
In Truro, Highland Light will open for tours on April 17. Climb Cape Cod's oldest light for an exceptional view. Visit
www.highlandlighthouse.org
for details.  
Rangers stationed at Salt Pond Visitor Center in Eastham will offer a walk at Nauset Marsh, a tour of the former Marconi Wireless Station Site in Wellfleet, indoor activity tables, and tours of the Captain Penniman House, which was rehabilitated in 2015-2016 through a funding collaboration between the National Park Service, Friends of the Cape Cod National Seashore, and Eastern National.   
4
th
graders and their families are invited to participate in the nationwide
Every Kid in a Park
program. Visit www.everykidinapark.gov to complete a short activity and receive a voucher for free entrance to all national parks and other public lands, including the national seashore's six beaches, through August 2017. Rangers at Salt Pond and Province Lands visitor centers will exchange the paper vouchers for durable plastic cards for 4
th
graders to present at park entrance stations.  
April 23 is National Park Rx day, and parks across the US will be celebrating how recreating in parks helps promote physical fitness.  The national seashore has nearly a dozen walking trails, three bike trails, and miles of beach to explore. Rangers at the visitor centers can recommend a walk, so stop by and ask! The National Park Service and Cape Cod Healthcare are joining forces again in 2017 for the Healthy Parks, Healthy People program. Details about the summer program will be out soon.  
Student artwork from the Massachusetts Marine Educators' annual Marine Art Contest will be on display at Salt Pond Visitor Center throughout April. The artwork showcases the diversity of life in the marine ecosystem and the talents of student artists locally and across the state.  
For a complete schedule of programs, visit
https://www.nps.gov/caco/ranger-guided-activities.htm
or pick up a schedule at a national seashore visitor center.