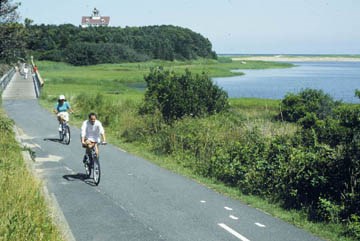 In 1961 the U.S. Congress established Cape Cod National Seashore as a unit of the national park system. Congress recognized that the Outer Beach of the Cape Cod peninsula was nationally significant for ecological, historical, and cultural reasons. The variety of Cape Cod's resources, and the many ways in which people experience these resources, are the key to its charm. But protecting the resources and at the same time providing for their continued use present significant challenges for all residents and land managers on the Cape.
The National Park Service prepares a variety of planning and environmental documents to help guide management of park resources. These documents also provide the opportunity for the public and other agencies to engage in the management and planning issues that face the seashore today.
Contact: Lauren McKean, AICP, Park Planner 508-957-0731
Major Planning & Design Projects and Compliance
Find major initiatives and National Environmental Policy Act documents through the following links:

National Park Service Planning, Environment and Public Comment website
Explore what we are doing to make park operations more sustainable.
Land Protection
An 11-minute video describing the partnership between private landowners and the National Park Service to create the Cape Cod National Seashore, emerging threats and the work of non-profit land trusts to save land in the National Seashore. Produced by Augusta Rose for the Compact of Cape Cod Conservation Trusts, Inc., 2012