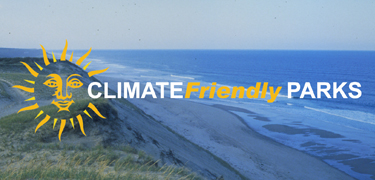 __________________________________________________________________
__________________________________________________________
Climate Friendly Parks
The Climate Friendly Parks Program (CFP) is a collaboration of the National Park Service and the U.S. Environmental Protection Agency that helps parks fulfill their role as stewards of the nation's most important natural and cultural resources. The program provides national parks with comprehensive support and with tools and resources to address climate change both within park boundaries and in surrounding communities.

Cape Cod National Seashore has taken the steps to becoming a Climate Friendly Park, including developing a Greenhouse Gas (GHG) emissions inventory, completing a Climate Action Plan, committing to implementing the Action Plan, and committing to ongoing monitoring of GHG reduction progress and reporting the results.
Climate Friendly Park Action Plan Implementation
From May 19-20, 2010, Cape Cod National Seashore hosted a Climate Friendly Parks Workshop to begin developing a Climate Action Plan. This plan describes the actions (policies, programs, and measures) the park will take to reduce its GHG emissions.Read about the goals and sustainable strategies Cape Cod National Seashore will use to mitigate emissions and to adapt to climate change impacts in our Action Plan.
The park has a Green Team that meets monthly to develop, track, and implement climate friendly initiatives laid out in our Action Plan.
Climate Change Scenario Planning
The Interagency Climate Change Scenario Planning Cape Cod Pilot Project was established to develop a successful and replicable process for integrating climate change mitigation and adaptation measures into a transportation and land use planning strategy. Learn more at the Cape Cod National Seashore Scenario Planning page.
Climate Change Information
What is climate change? How does it affect our national parks, and specifically Cape Cod National Seashore? Learn more at these links:
Climate Change at Cape Cod National Seashore
Cape Cod National Seashore Climate Change Resource Brief
National Park Service Climate Change Response
EPA Climate Change Information
How You Can Help
Calculate your carbon footprint and learn methods for reduction at these interactive websites.