Mobility Services
Cabrillo National Monument welcomes individuals who may have physical or mobility concerns! The following services are available to you. If there is something else you need that will make your trip easier, please call ahead of your visit. For more information, please ask a ranger at the park or contact us ahead of time. Please
email
or call 619-523-4285.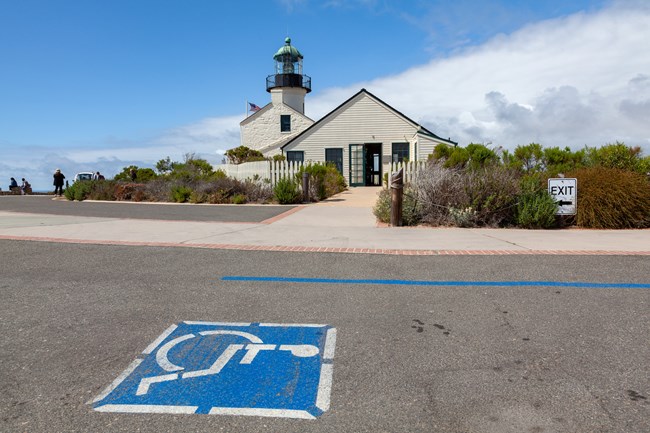 Accessible Parking
There is accessible car and van parking spaces in the main lot and in the tidepool area. Want to visit the lighthouse? Ask a ranger for a pass to get our accessible parking behind the lighthouse. (Visitors without this pass are asked to walk up an upward sloping concrete path to the top of a hill where the lighthouse is located. This is about a 5 minute walk.)
Wheelchair Accessible Drinking Fountains
All drinking fountains in the park are wheelchair accessible. Coin-operated, pedestal-mounted binoculars are available in the Visitor Center Bay Overlook and the Kelp Overlook. There are two accessible mounted-pedestal binoculars in each of these areas. Ask a ranger in the Visitor Center for assistance.
Unisex, Single-Stall Restrooms
Two large, wheelchair accessible unisex, single restrooms with baby changing tables are available at the Visitor Center.
Wheelchair for Loan
A wheelchair is available for use throughout the park. Please ask a ranger at the visitor center for assistance.
Gently Sloping Concrete Pathways
Sidewalks and ramps connect the main areas of the park together (Main Parking Lot, Ballast View Overlook, Visitor Center, Visitor Center Bay Overlook, Cabrillo Statue, Lighthouse, Kelp Overlook, and Military Museum). Other paths in the park include:
The tidepool path is concrete for the first 100 yards and a bench is available at the end for beautiful ocean views. (Note: You must drive to the tidepools from the main park.) Access to the tidepools and the Coastal Trail is via a narrow, hard-packed dirt path with occasional steps.
The Bayside Trail starts as asphalt (with moving cars) then turns into a wide, hard-packed dirt path. It is an out and back trail which is a gentle downhill on the way out and uphill on the way back. The trail can be uneven at times. There are several benches along the trail for beautiful bay views.
The Event Bluff is an uneven dirt path that connects the military museum, the military bunker, and the street to the lighthouse. The military bunker includes concrete steps to enter the underground building.
Please note the Old Point Loma Lighthouse is a historic structure and accessible by stairs only.
Volunteer with Cabrillo National Monument!
Local to the park? We can use your help! We have several volunteer opportunities available to you. One opportunity is the Accessibility Support Assistant. People in this volunteer position will help Cabrillo National Monument stay accessible and welcoming as possible to individuals who have physical or mobility concerns.
Last updated: August 24, 2022