Commercial Photography and Filming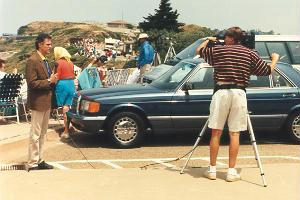 COMMERCIAL PHOTOGRAPHY AND FILMING AT CABRILLO NATIONAL MONUMENT
Feature films, car commercials, fashion catalogs, motion and still photography all happen at Cabrillo National Monument. The beautiful views are a perfect backdrop for commercial filming and photography.
If you are interested in shooting your production here, please e-mail us. For more detailed information, download the following:
The short form commercial filming permit is intended for less complex activities and a crew of ten or fewer people.
The long form commercial filming permit should be used for activities of greater complexity requiring a crew of more than ten.
Commercial Film and Photography Fee Schedule
APPLICATION FEE
The $100.00 application fee should accompany all Commercial film and photography permit applications, this fee in non-refundable.
LOCATION FEE
All commercial filming permits and still photography permits are statutorily subject to cost recovery and a location fee, neither of which may be waived. The location fee is determined by the type of activity (commercial filming versus still photography) and is determined by the number of permitted days and the number of people on park lands associated with the permitted activity. There is no deviation from the schedule. A day is defined as a continuous 24 hour period.
Filming
| | |
| --- | --- |
| People | Fee per day |
| 1-2 plus camera/tripod | $0.00 |
| 1-10 | $150.00 |
| 11-30 | $250.00 |
| 31-49 | $500.00 |
| Over 50 | $750.00 |
Photography
People

F

ee Per Day

1-10

$50.00

11-30

$150.00

Over 30

$250.00
COST RECOVERY FEE
A cost recovery fee is incurred to recover all costs to the Park Service for providing necessary services associated with special use permits. These costs include administrative costs, monitoring, traffic control, before/after hour access to the park and facilities, etc. This fee is highly dependent upon the permitted event and a written estimate of fees will be given to the applicant on approval of the application.