Commercial Photography and Filming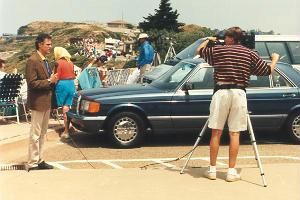 Update During COVID-19 Pandemic:
Special Use Permits are subject to change prior to the event as circumstances and guidance evolves from Centers for Disease Control and Prevention (CDC), OMB/OPM, and State/local public health officials. Permits are restricted to 10 participants or less due to COVID-19 social gathering restrictions.
FILMING & PHOTOGRAPHY AT CABRILLO NATIONAL MONUMENT
Do I need a permit?

This is the number one question we get asked. It is our experience that if you think you do, then more often than not, you do.

Please review this information carefully prior to applying for a permit or contacting our office. This will inform you on the type of permit you can apply for.
Commercial Filming:
All commercial filming activities taking place within Cabrillo National Monument require a permit. Commercial filming means the film, electronic, magnetic, digital, or other recording of a moving image by a person, business, or other entity for a market audience with the intent of generating income.
Non-Commercial Filming:
Though considered non-commercial, projects such as student films, government-sponsored films, and some non-commercial news media may require a permit to manage the activity to minimize resource damage and reduce conflicts with other users. We may require documentation confirming that these permitted projects are non-commercial in nature.
Still Photography:
Still photography requires a permit under the following conditions:
Product or service advertisement is involved
Talent/models, props, crews or sets are involved
The project has the potential to disrupt other park activities or visitors
More than just hand-carried equipment is utilized
The project requires access to an area normally closed or restricted to general public use
Access to an area outside of normal public use hours is required
The project carries a potential risk to park resources
The activity raises safety concerns that can be mitigated through issuance of a permit with restrictions
We would incur additional administrative costs to monitor the activity.
If you are interested in shooting your production here, please e-mail us.

For more detailed information, download the following:

How Do I Apply for a Film or Photography Permit?
Fill out the appropriate application:
2. An application fee must accompany all Commercial Film and Photography permit applications, this fee in non-refundable. This check should be made out to the, "National Park Service." And can be mailed or hand delivered to the park at:
Cabrillo National Monument
C/O Special Park Uses
1800 Cabrillo Memorial Drive
San Diego, CA 92106


3. Once received, one of the Park's Permit Program Rangers will review and begin working on your official permit, corresponding with you via email or phone to ask any follow up questions or to notify you of additional fees associated with your permit request. The more time you can give the Park to review and process your permit the better.

4. Once the details have been ironed out, you will receive a permit and in most cases, an Additional Conditions Document for your review and signature. This will be returned to your Park Point of Contact. They will then take these documents to our Park Superintendent for final review. Once approved you will be notified.

Commercial Film and Photography Fee Schedule
APPLICATION FEE
The application fee should accompany all Commercial film and photography permit applications, this fee in non-refundable.
LOCATION FEE
All commercial filming permits and still photography permits are statutorily subject to cost recovery and a location fee, neither of which may be waived. The location fee is determined by the type of activity (commercial filming versus still photography) and is determined by the number of permitted days and the number of people on park lands associated with the permitted activity. There is no deviation from the schedule. A day is defined as a continuous 24 hour period.
Filming
| | |
| --- | --- |
| People | Fee per day |
| 1-2 plus camera/tripod | $0.00 |
| 1-10 | $150.00 |
| 11-30 | $250.00 |
| 31-49 | $500.00 |
| Over 50 | $750.00 |
Photography
People

F

ee Per Day

1-10

$50.00

11-30

$150.00

Over 30

$250.00
COST RECOVERY FEE
A cost recovery fee is incurred to recover all costs to the Park Service for providing necessary services associated with special use permits. These costs include administrative costs, monitoring, traffic control, before/after hour access to the park and facilities, etc. This fee is highly dependent upon the permitted event and a written estimate of fees will be given to the applicant on approval of the application.


Last updated: July 7, 2020