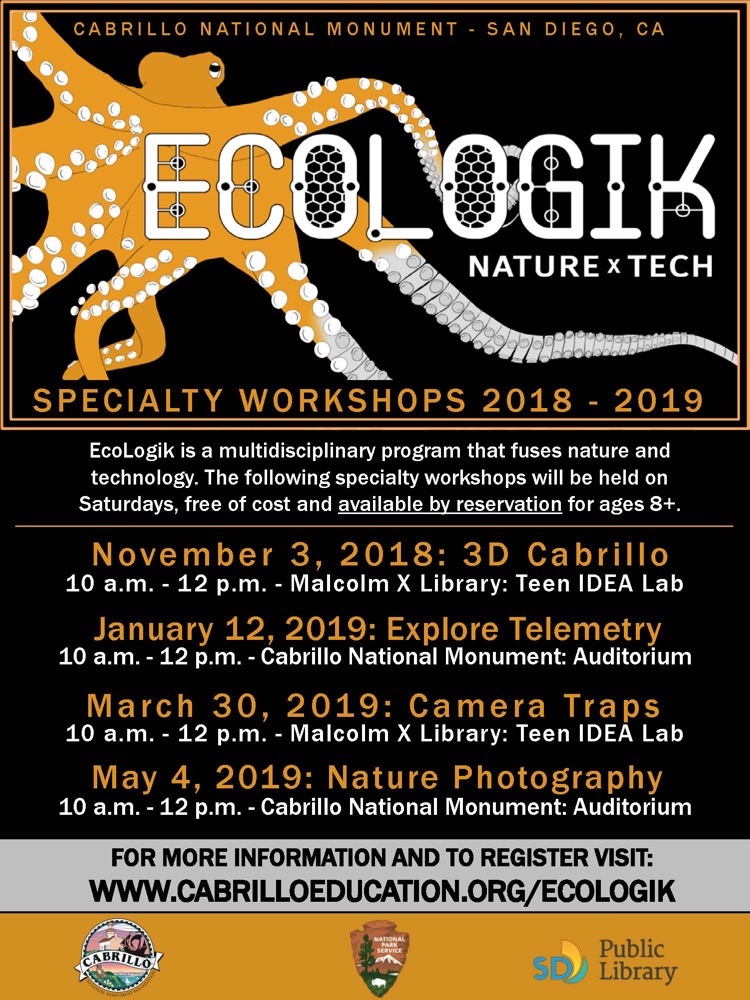 NPS/Nicole Ornelas – EcoLogik Workshops 2018 - 2019
A unique fusion of ecology, nature, and technology, the EcoLogik Project connects the next generation of stewards to the natural resources and science of Cabrillo National Monument. In collaboration with San Diego Public Library and Cabrillo National Monument Foundation, this multidisciplinary approach fosters a platform to make technology more accessible to students and inspire them to pursue careers in STEM fields. The ultimate goal of the EcoLogik Project is to provide the tools and context to empower the 21st century of park stewards in meaningful and relevant ways. 
We are excited to reach new audiences with the EcoLogik Project and extend the role of Cabrillo National Monument in the community with EcoLogik Workshops 2018 - 2019. In accordance with this mission, we are offering four specialty workshops throughout the year to teach our nature + technology curriculum. These workshops are offered free of charge to anyone 8 years old and older (adult supervision required for minors).
3D Cabrillo: November 3, 2018
Learn how to build 3D printed biomodels. Through our step by step instructional Student Resource Manual, you will 3D scan an object, edit it using Meshmixer, and have the tools to create your own 3D biomodel using online software and a mobile device with a camera. These biomodels allow for interactive learning for students and visitors alike. 
Explore Telemetry: January 12, 2019
Discover how space can impact the species in our ecosystem in a multitude of ways. Unearth how scientists continue to monitor animal movement by getting the opportunity to track animals with radio telemetry and interpret what those locations mean to the animal populations that call the park home. 
Camera Traps: March 30, 2019
Have you ever wondered what hunts in the night at Cabrillo National Monument? Well let's find out! Through technology, scientists can capture pictures and sometimes videos of the creatures that call Cabrillo National Monument home. Look through some footage, identify, and analyze the patterns of these critters.
Nature Photography: May 4, 2019
Gain a different perspective of the natural world around you by focusing on a species up close. Investigate some of the different functions of the forms you find in nature, like the pattern of a flower or scale coloration of a lizard. Nature photography allows for nature's beauty to be captured in an unique way. 
We hope to see you there!
Check out some of our EcoLogik Workshops from 2017 - 2018: 
Biomimetic Loggers
3D Cabrillo