Here at Cabrillo National Monument (CNM) we monitor most of the species found at the park. From tidepool organisms, herptiles (reptiles and amphibians), and birds, park scientists keep track of who's living here or migrating through. This allows us to ensure that populations are healthy, or to discover potential problems if populations are in decline. It also tells us how changes in the environment might be affecting these populations, such as nearby urbanization. Monitoring is a fairly effective method for understanding the natural resources at CNM with one notable exception – there are only a few of us, and even scientists need to sleep! So what happens when scientists aren't around all the time?
Recently, a brilliant red bird was seen perched in one of the trees by the lighthouse. This bird was identified by a park biologist as a male Summer Tanager (Piranga rubra), which was very exciting news since Summer Tanagers generally do not venture this far north and west – during breeding season, most are located from south central California through the southeastern United States. The rest of the year Summer Tanagers can only be found from Mexico to South America. By reviewing our monitoring data park biologists discovered that surveyors have never catalogued a Summer Tanager at CNM before! But does no official record mean that, indeed, there has never been a Summer Tanager at the monument? This is where park scientists turn to community scientists for help.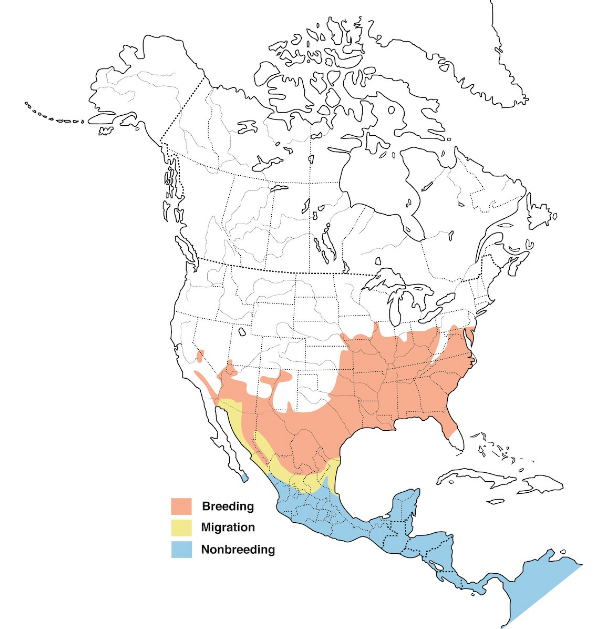 Photo courtesy of Macaulay Library and Cornell Lab of Ornithology – Range map of the Summer Tanager (Piranga rubra)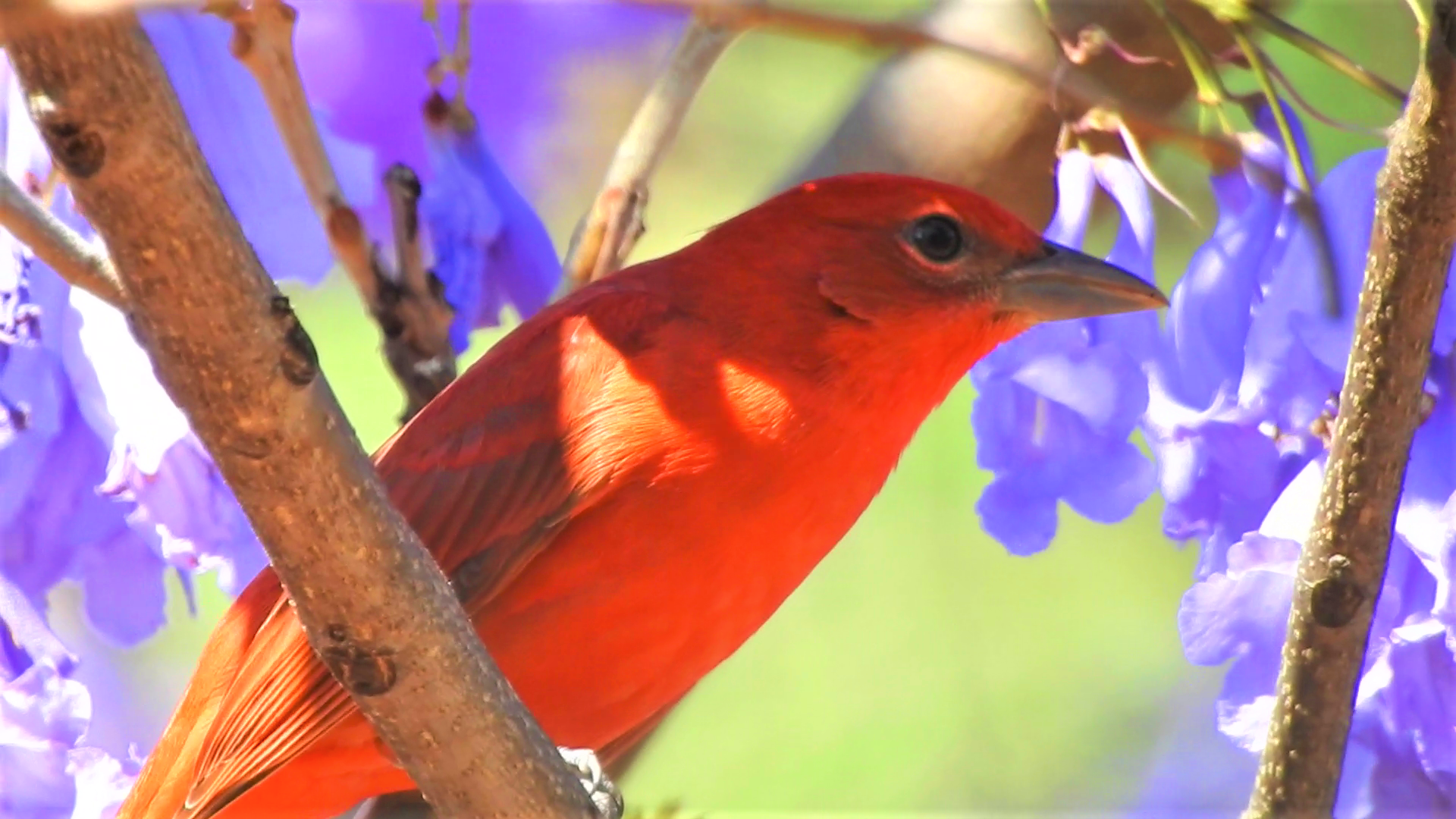 Photo courtesy of cayosol on iNaturalist.org – Adult male Summer Tanager (Piranga rubra)
A community scientist is an amateur enthusiast – someone who is interested in nature and in how things work. There are many ways to be a citizen scientist, including using apps to observe and catalogue the species in the vicinity. One such app, called eBird, is popular with birders and is used all over the globe to track the locality, migratory patterns, and abundance of birds. Checking for Summer Tanagers at CNM on eBird elicited interesting results – though no park scientists have ever recorded a Summer Tanager at the monument, citizen scientists have! It turns out eBirders have observed Summer Tanagers twice before, once in 2001 and once in 2010. Moving north to Fort Rosecrans National Cemetery (a birding hotspot), there have been 58 observations of the species. This is valuable information that scientists rely upon to get an accurate picture of the distribution of birds. In fact, scientists regularly consult community science apps like eBird and iNaturalist for a more thorough picture of a species or habitat, sometimes even using that data in their own research.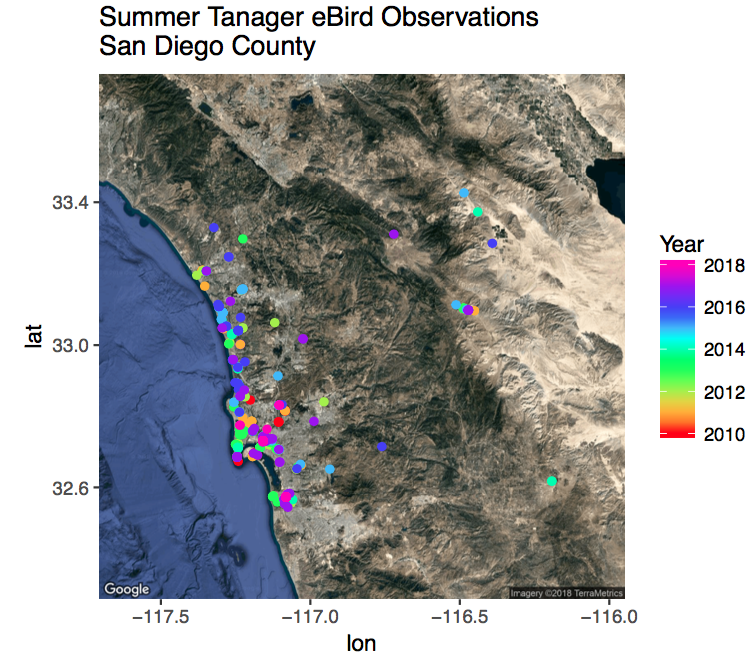 Map courtesy of Google Earth – eBird observations of the Summer Tanager (Piranga rubra) in San Diego County
This Summer Tanager sighting was a great way to illustrate the importance of community science. If you're interested in becoming a citizen scientist, you can sign up for the free apps of eBird (birds only) or iNaturalist (all organisms) here:
www.ebird.org
or
www.inaturalist.org
In our opinion, an even better way to perform some citizen science (though we might be biased) is to join the Science Explorer's Club (SEC) here at CNM! The goal of the SEC is to introduce park visitors to science in the park and to encourage environmental stewardship through hands-on activities. Volunteers guide visitors through these activities, teaching them how to collect data and make scientific observations. Topics include tidepool monitoring, bird surveys, citizen science, and more. If you love science and are looking for ways to be involved in your community, then the SEC wants you! For more information, visit:
www.nps.gov/cabr/getinvolved/volunteer.htm
or email McKenna Pace, the creator of SEC, directly at: mckenna_pace@partner.nps.gov
Won't you join thousands of your fellow community scientists today?
References
All about birds:
https://academy.allaboutbirds.org/
Summer Tanager:
https://www.allaboutbirds.org/guide/Summer_Tanager/overview
eBird:
www.ebird.org
iNaturalist:
www.inaturalist.org