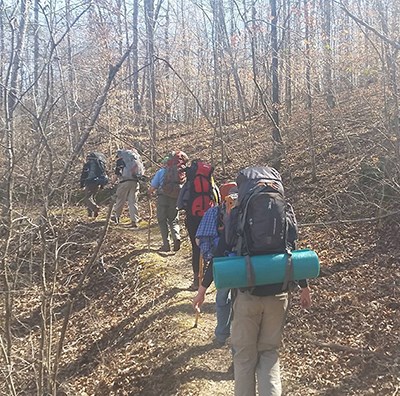 Floating or hiking or both, just overnight or for several days, the Buffalo National River offers visitors several ways for exploring the vast scenic backcountry and wilderness areas throughout the park.
In order to minimize impacts and help preserve the pristine beauty of the wilderness for generations to come, please follow the rules listed below. Please "Leave No Trace" that anyone was here.

* A backcountry permit is not required within the Buffalo National River.
* Pets are not permitted on trails, in backcountry, or wilderness areas.
* The possession or use of glass containers in caves, on trails or waterways, or within 100 ft (30.48 meters) of any river or stream in the park is prohibited.
* Do not cut or carve live vegetation.
* Do not drive nails into trees to hang lanterns.
* Do not leave flagging or other markings hanging in trees to mark your route. Trails are marked with white blazes for hiking only and yellow blazes for hiking/horse riding.