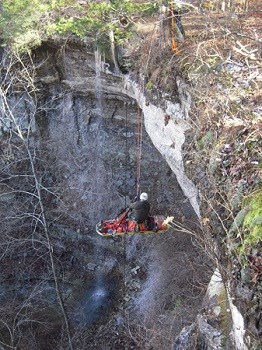 Buffalo National River is magnificent country! Some of the most exquisite you'll ever experience. But it's rugged, unpredictable country, too and it should not be taken lightly. Every year dozens of visitors are rescued from the backcountry and wilderness areas of Buffalo National River. Some get into a tight spot on the river, some become lost off trail, and others fall off cliffs. Occasionally, some even die in Buffalo River's backcountry.
When the call comes, a team of highly-dedicated, highly-trained rescuers, about half of whom are volunteers go forth into the woods, over the cliffs, underground, and down river in all weather conditions to help those in need. These search and rescues (SARs) are not only sometimes dangerous, but also expensive. Each incident costs the rescuers themselves time, effort, and money, and each costs the taxpaying public money, as well.
How do we prevent, or at least reduce SARs? Part of the answer rests on YOU, the individual visitor. Please, take some time to prepare for your visit and heed some sound advice from BUFFSAR. We call it Preventive Search and Rescue, or P-SAR. We want you to come out alive and in one piece.