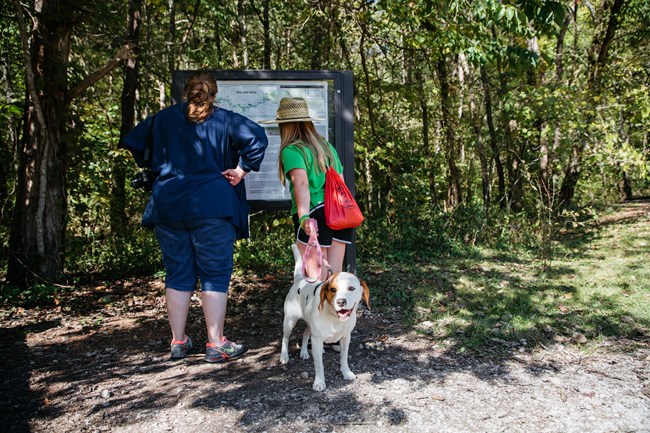 Pets are welcome at Buffalo National River, but there are many restrictions for the safety of the park resources, wildlife, and other visitors. All park trails are closed to pets with the exception of the Mill Creek (trailhead is at the Pruitt river access area in the Upper District), the Tyler Bend Campground trails (Spring Hollow, Buck Ridge, and Rock Wall in the Middle District), and all three Buffalo Point Campground trails (Forest Trail, Overlook Trail, and Campground Trail in the Lower District). Visit the park's hiking page for more infomation and maps of these trails.

Pets are allowed in all campgrounds, on the river, and on the gravel bars, but must be under physical control at all times. Documented service animals are an exception to most pet restrictions and are allowed on trails and in public buildings. Service animals must be kept under physical restraint at all times.
Pets are not allowed in any government buildings, caves, or on most park trails.
Pets are not allowed within designated wilderness areas with the exception of gravel bars along the river corridor.
Leashed pets are permitted in the campgrounds and on gravel bars up to 100' from the water's edge.
Pets may not be left unattended. Unfamiliar sights, sounds, and smells can disturb even the calmest, friendliest, and best-trained dog, causing them to behave unpredictably or bark excessively.
Pet excrement must be collected by pet owners, and disposed of in trash receptacles.
Chase for pleasure and dog training are not allowed.