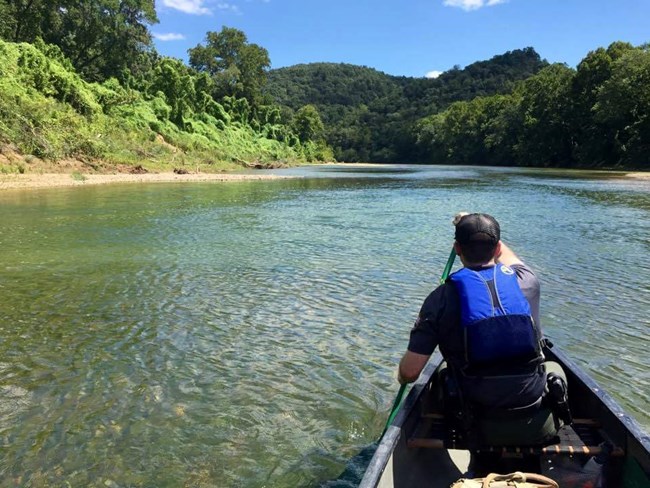 Outdoor Ethics for Buffalo National River
The
Leave No Trace Seven Principles
are the bedrock of the Leave No Trace program. They provide guidance to enjoy our natural world in a sustainable way that avoids human-created impacts. The principles have been adapted so they can be applied in your backyard or your backcountry. More information at
www.lnt.org/
1. Plan Ahead and Prepare
Know before you go. Check the weather forecast and water levels before your trip. Stay updated on changing river conditions at ar.water.usgs.gov/buffaloriver. River levels greater than the indicated levels are unsafe:

Ponca gage: 2070 cfs
Pruitt/Hwy. 7 gage: 2000 cfs
Grinder's Ferry/Hwy. 65 gage: 8000 cfs
Dillard's Ferry/Hwy. 14 gage: 9370 cfs

Watch the weather closely during your trip. Upstream thunderstorms can cause the river to rise rapidly.
Use a detailed topographic map to plan your trip.
Be prepared with all necessary skills, gear, and equipment to have a safe and enjoyable time.
2. Travel and Camp on Durable Surfaces
When in the frontcountry, camp in designated campsites. When in the backcountry, find a site that is at least ½ mile away from a trailhead, road, or other high-use area. Whenever possible, choose existing sites where vegetation is absent.
If you camp on a gravel bar along the river, be mindful of flood potential and plan an escape route. Overnight storms can warrant an emergency evacuation to higher ground.
When hiking, walk single file down center of trail (even when muddy) to protect vegetation and prevent soil erosion.
Always leave your campsite cleaner than when you arrived.
3. Dispose of Waste Properly
If you pack it in, pack it out!
When applicable, use a portable camping toilet to pack out human waste, toilet paper, and hygiene products.
In the backcountry, deposit solid human waste in catholes dug 6 to 8 inches deep at least 200 feet from water, camp, and trails. Cover and disguise the cathole when finished, and pack out all toilet paper and hygiene products.
Most of the littering that takes place at Buffalo National River is done accidentally when a canoe tips over and its contents wash downstream. To prevent accidental littering, fasten cooler lids and secure all belongings to your boat while paddling.
Do not throw trash into river, on land, or leave at campsite. Carry it out with you.