News Release
Celebrate a Century of Wonder at Bryce Canyon National Park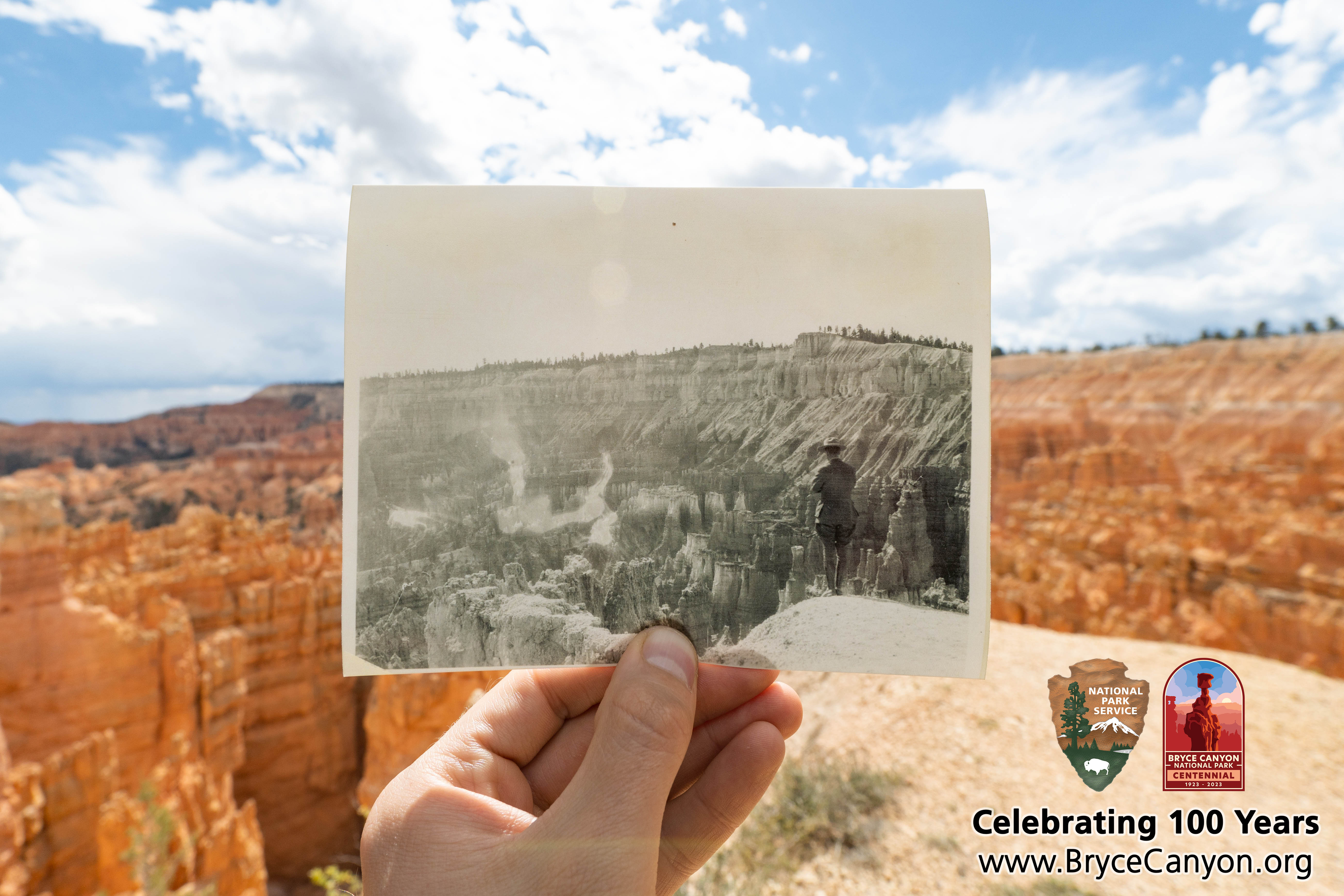 News Release Date:
February 9, 2023
Contact: Peter Densmore
A cave without a ceiling, red rocks standing like men, nature's most delicate jewel—Bryce Canyon National Park has been described as many things, and this year we'll add "100 years old" to that list. To celebrate this historic milestone, the park and its partners are inviting the public to enjoy a year of special programs and events.

Utah's second national park, Bryce Canyon was first protected as a national monument by President Warren G. Harding on June 8, 1923. From visitors numbering in the thousands in 1923 to over two million visitors in 2022, the park's vibrant limestone hoodoos, fragrant ponderosa forests, and profoundly dark night skies are now beloved by visitors from all around the globe.

"Bryce Canyon's centennial year is an opportunity to celebrate not only the rich past but also the present and future of this national park," said park superintendent Jim Ireland, "2023 will be a year of celebration, and yet we also want it to be a year of connection between the park and its local communities, affiliated tribes, partners, visitors, and staff."Events planned for the centennial year so far include:
Ruby's Inn Winter Festival: February 18-20

Historic Photo Exhibit: April through November at Bryce Lodge

Utah Prairie Dog Day: May 11

Centennial Ceremony and Concert featuring The Piano Guys: June 8

Astronomy Festival: June 14-17

Bryce Canyon Butterfly Count: July 8

Geology Festival: July 14-15

All Employee Reunion: August 24-26

Plein Air "Paint Out" with Escalante Canyons Art Festival: September 18

Bryce Canyon Heritage Days Festival: September 28-30

Annular Eclipse: October 14

Christmas Bird Count: December 16
All centennial events will be open to the public, though some may require advance registration through the park or a partner organization. Visit www.BryceCanyon.org for information about centennial events and partnership initiatives.

The park will also be sharing centennial stories all year long on social media, and visitors are invited to share their centennial experiences by using the hashtag #BRYCE100.

As always, those planning a visit this year are encouraged to plan ahead by visiting the park's website at www.nps.gov/brca and to download the free NPS app before they arrive.
Last updated: February 9, 2023