Western Wallflower
Common Name(s): Western Wallflower, Pursh's Wallflower
Scientific Name: Erysimum capitatum var. purshii (also known as Erysimum asperum var. purshii)
Size (height) English & Metric: 6"-36" (15-90 cm)
Habitat: Diverse but commonly found on disturbed soil
Flowering Season (for Bryce region): April - July
Range: Throughout the Southwest and Western side of the Rocky Mountains, most elevations in Utah.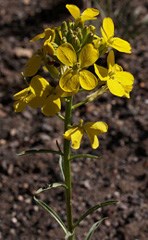 General Description

A member of the mustard family, and a species which is very common through the drier regions of the western United States. It has numerous yellow flowers, each with four petals arranged in a basal rosette. The leaves are arranged around the stem in an alternating pattern.
Plant Lore:
The Western Wallflower has the greatest range of distribution by elevation of any wildflower in Utah. It has been documented to live everywhere between 2,500 ft and 12,500 ft. (800-4000m). This flower offers little practical use beyond being a pleasing ornamental. Wallflowers obtained their unusual name as they commonly grow along old walls in Europe.
When and where to see at Bryce:
In mid-June, these flowers are common along roadside pull-offs and at viewpoints along Bryce Canyon's main road.
Further Reading:
Buchanan, Hayle 1992. Wildflowers of Southwestern Utah. Bryce Canyon Natural History Association. Bryce Canyon, Utah.
Spellenberg, Richard. 2001. National Audubon Society's Field Guide to North American Wildflowers - Western Region. Chanticleer Press, Inc., New York.
Williams, David. 2000. A Naturalist Guide to Canyon Country. Falcon Press. Helena, Montana.
Last updated: February 24, 2015