Many-Flowered Stoneseed
Common Name(s): Many-flowered Stoneseed, Southwestern Stoneseed, Pretty Stoneseed, Manyflower Gromwell
Scientific Name: Lithospermum multiflorum
Size (height) English & Metric: 8-24" (24-62cm)
Habitat: Hills, canyons, and mountain slopes
Flowering Season (for Bryce region): May - August
Range: Southern third of Utah, east to Colorado, and south to northern New Mexico.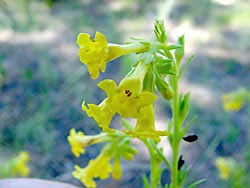 General Description:
This plant is large and bushy with numerous, drooping, deep yellow flowers that are narrow with trumpet-shaped corollas having five smooth-edged lobes. The leaves are slightly hairy, narrow, and light to medium green in color. Stoneseeds belong to the borage family. This species can be easily confused with the Showy Stoneseed, Lithospermum incisum. The most obvious distinction is that the Showy Stoneseed is often a smaller herb with fewer stems and flowers.
Plant Lore
Native Americans used the roots to make a purple dye for clothing and feathers. The seeds are hard, shiny, and white, hence the name stoneseed. Some sources claim that stoneseed plants were also used as a contraceptive and to treat diarrhea.
When and where to see at Bryce:
This plant can be found in most areas of the park. It is especially common along trails, roadsides, and tree-lines.
Further Reading:
Buchanan, Hayle 1992. Wildflowers of Southwestern Utah. Bryce Canyon Natural History Association. Bryce Canyon, Utah.
Densmoore, Frances 1991. How Indians Used Wild Plants for Food Medicine and Crafts, Dover Publications.
Welsh, Treshow, and Moore. 1965. Common Utah Plants. Brigham Young University. Provo, Utah.
Last updated: February 24, 2015