Blue Flax
Common Name: Blue Flax
Scientific Name: Linum lewisii
Size (height) English & Metric: 6-31" (15-80cm)
Habitat: Well drained prairies, meadows and the breaks.
Flowering Season (for Bryce region): April - August
Range: Throughout the western United States and Mexico.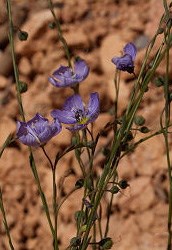 General Description:
The plant has few to many white to deep blue flowers with five petals each. The leaves are arranged in an alternating pattern and are very narrow and very short. Communities consist of separate small clumps of plants. This is a member of the flax family.
Plant Lore:
Native Americans consumed the seeds for their flavor and nutrients. A tea made from the stems and leaves was used to treat various medical problems such as eye infections, stomach disorders, and swellings. Livestock exhibits a state of drowsiness when feeding on Blue Flax. Blue Flax was used by many American Indian groups in making strong rope. Today a cultivated flax is still grown for its "linen" fiber and "linseed oil".
When and where to see at Bryce:
Most trails, and in open fields and among short shrubs throughout the spring and midsummer.
Further Reading:
Buchanan, Hayle 1992. Wildflowers of Southwestern Utah. Bryce Canyon Natural History Association. Bryce Canyon, Utah.
Craighead, Craighead and Davis, Peterson Field Guide, Rocky Mountain Wildflowers.
Fagan, Damian. 1998. Canyon Country Wildflowers. Falcon Press. Helena, Montana.
Last updated: February 24, 2015