Markagunt Penstemon
Common Name: Markagunt Penstemon
Scientific Name: Penstemon leiophyllus
Size (height) English & Metric: 15-24" (45-63cm)
Habitat: Open meadows
Flowering Season (for Bryce region): June - August
Range: Principally found in the "Markagunt" range of the Cedar Breaks area, across to Bryce Canyon.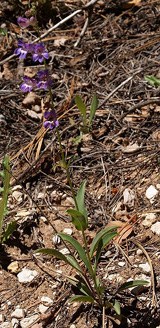 General Description:
Another member of the figwort family, this is a tall-growing species of penstemon. It has large tubular, blue to blue-violet flowers that have red-violet veins running the length of the corolla. It somewhat resembles other, better known figwort family members, the snapdragons. Opposite, clasping leaves that are long and narrow are distributed along the stem.
Plant Lore:
Penstemons in general are enjoyed for their beauty and not medicinal purposes. There are over 250 species of penstemons in the United States with Utah alone claiming 65 of them; ten species occur at Bryce Canyon National Park.
When and where to see at Bryce:
This species can be found in moist mountain meadows in the mid to higher elevations of the park.
Further Reading:
Buchanan, Hayle 1992. Wildflowers of Southwestern Utah. Bryce Canyon Natural History Association. Bryce Canyon, Utah.
Last updated: February 24, 2015