Latino Conservation Week at National Parks of Boston
Every year, the National Parks of Boston joins other National Parks in encouraging Latinx passion for the outdoors and to highlight the role of Latinx in conservation.
See below for the upcoming programming for Latino Conservation Week.
Latino Conservation Week July 16 - 24, 2022
Saturday, July 16 - Sunday, July 24, 2022: Daily Social Media Posts
Find us on Facebook at Boston National Historical Park or follow us on Instagram @boston_nhp to learn about stories of Latinx Conservation efforts.
Wednesday, July 20, 2022 10 a.m. - 5 p.m.: Latino Conservation Week Webinar
The National Parks of Boston is excited to join our colleagues at other National Parks for a series of virtual presentations on a variety of topics. This Conservation Webinar will feature presentations from employees and volunteers working for the National Park Service at sites located across the country. Join us as we learn about different conservation issues that we face today through the Latinx perspective.
The webinar will be split up into two sessions, each including three presentations: morning session from 10am EST - 1pm EST; followed by an afternoon session from 2pm EST to 5pm EST. Most sessions will be in English; however, two of the morning sessions will be in Spanish.
Join us for the morning session.
Join us for the afternoon session.
To learn more about the webinar and the presenters, please visit the Calendar event.
~~
Con gran entusiasmo los Parques Nacionales de Boston, Parque Nacional Histórico Colonial y Parque Great Falls (Parque Grandes Cascadas) los invitan a participar de un evento virtual llamado "Seminario Web de la Conservación". Este evento se llevará a cabo por medio de presentaciones ofrecidos por empleados profesionales y voluntarios del Servicio de Parques Nacionales ubicados en diferentes regiones en la Nación estadounidense. Únete a nosotros para aprender sobre los diferentes problemas de conservación que enfrentamos hoy día a través de la perspectiva Latinex.
Este evento web se dividirá en dos secciones donde cada una incluye tres presentaciones, durante la mañana estaremos presentando desde las 10 am EST a 1PM EST y la segunda sección de la tarde será de 2pm EST a 5pm EST. La mayoría de las presentaciones será llevarán a cabo en inglés y dos de ellas se presentan en español.
El evento web será presentada por Microsoft Teams Live a través de los siguientes enlaces:
Sección de la mañana: 10am EST - 1pm EST
Sección de la tarde: 2pm EST - 5pm EST
Todas las sesiones incluirán texto en vivo.
Morning Session
10:00 a.m. EST: Ciencia para el Manejo de Recursos Naturales en el Servicio de Parques Nacionales, Jim Comiskey, Interior Region 1 North Atlantic – Appalachian*
11:00 a.m. EST: Invisible enemies in the Revolutionary War, Anthony Rivera, Colonial National Historical Park – Yorktown Battlefield.
12:00 p.m. EST: Defensoras del pasado, defendidas en la actualidad: las fortificaciones del Viejo San Juan, 500 años de historia, Carlos Noel Almodóvar, San Juan National Historic Site*
Join us for the Morning Session through this Microsoft Teams Live Event link.
Afternoon session
2:00 p.m. EST: No Parks Around the Corner: The Unjust Allocation of Urban Green Spaces, Anthony Dos Santos, Boston National Historical Park
3:00 p.m. EST: Healing Generational Trauma in the Latine Community through Stewardship: A Decolonized Approach, Ivan De Jesus Bermejo, Everglades National Park - Shark Valley District 
4:00 p.m. EST: La fuerza de las montañas// The power of the mountains: Monitoring Wildlife Post Woolsey Fire via Community Science, Miroslava Munguia Ramos & Talisa García, Santa Monica Mountains National Recreation Area 
Join us for the Afternoon Session through this Microsoft Teams Live Event link.
Saturday, July 23, 2022 from 10:00 a.m. - 2:00 p.m.: Boatbuilding with Coconuts, Outside Charlestown Navy Yard Visitor Center
Join Ranger Dave in building Puerto Rico's famous chalanas out of coconuts! Using chopsticks for spars, scrap fabric for sails, and recycled materials for a rudder, you can test your coconut chalanas in small pools we'll have set up at the Navy Yard.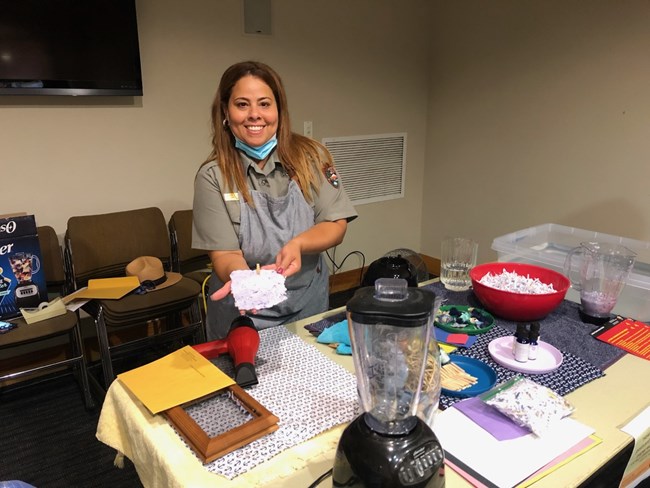 Saturday, July 23, 2022 2:30 p.m. - 3:30 p.m.: How to Create a Postcard with Recycled Paper Workshop, Charlestown Navy Yard Visitor Center
Join Ranger Veronica and learn how to recycle your scrap paper and make colorful postcards you can send to your family and friends.
Saturday, July 23, 2022 11:00 a.m. - 4:00 p.m.: Ruby's Birds Story Walk (in Spanish and English) at the Charlestown Navy Yard
This Story Walk features the book Ruby's Birds written by Mya Thompson and illustrated by Claudia Davila. It tells the story of Ruby, a brave young woman who discovers the wild side of her city's neighborhood. her imagination runs wild! This book is for children ages 3-7, but all can join in on the fun! Signage also features Spanish translations, as well as English and Spanish audio versions.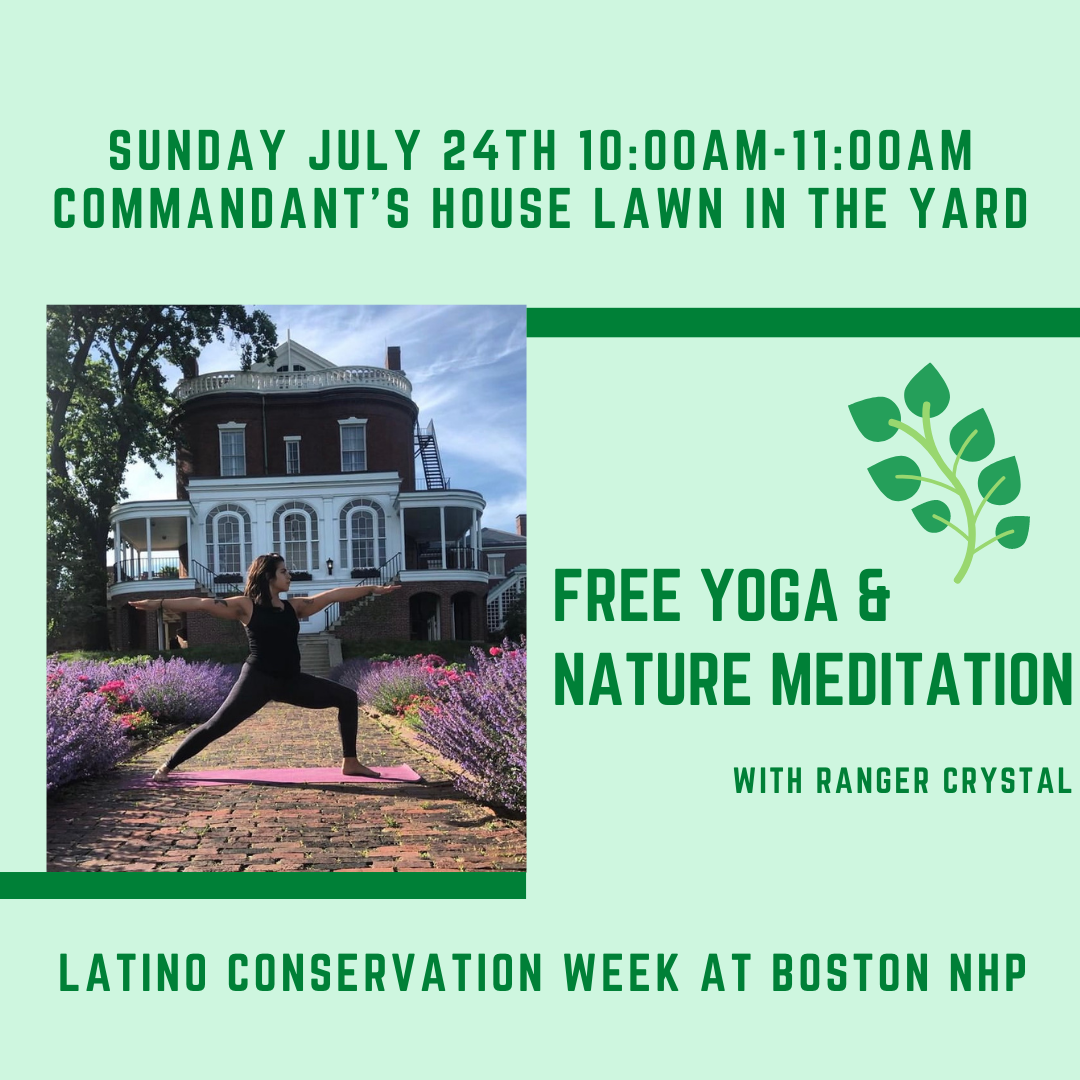 Sunday, July 24, 2022 at 10:00 a.m.: Join Ranger Crystal for Nature Meditation + Yoga!
Celebrate Latino Conservation Week and connect with nature by practicing yoga and meditating in the park. Join us on the Commandant's lawn in the Charlestown Navy Yard for a relaxing class while listening to the sounds of birds, insects, and leaves blowing in the wind. Discover how meditative time outdoors leads to beautiful states of relaxation while cultivating a passion for caring for nature and conserving our public lands and spaces.
Please bring water and dress comfortably in loose or stretchy clothing. We have a limited number of yoga mats to loan out to participants who need one. Therefore, to ensure that you have a mat, please bring one with you to the event.
*In the case of severe weather, this event may be canceled. Please check our Facebook page for any updates: https://www.facebook.com/BostonNHP.
Last updated: July 20, 2022