USS Constitution
Huzzah! Her sides are made of iron!
USS Constitution is the oldest commissioned ship in the United States Navy. Naval officers and crew still serve aboard her. The USS Constitution is operated by the United States Navy, a partner to the National Parks of Boston. The Naval History and Heritage Command, Detachment Boston, is housed in Building 24 and is responsible for the maintenance, repair and restoration of USS Constitution at the Navy Yard. Across the pier from Constitution in Building 22 is the USS Constitution Museum. The Museum serves as the memory and educational voice of USS Constitution and provides engaging and hands-on experiences for all visitors.
To learn more about Constitution's crew and management, visit the official website of USS Constitution.
To learn more about Constitution's history and explore more about how she was built, sailed, and preserved, visit the USS Constitution Museum website.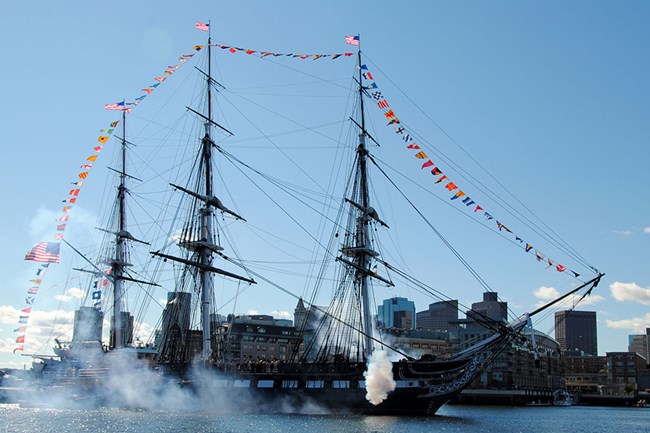 Boston's Most Storied Ship
Prior to independence, the thirteen American colonies enjoyed protection from pirates and foreign navies under the British Royal Navy. Once the United States gained recognized independence, however, the young nation had to defend itself. In 1794, Congress authorized the construction of the first six warships to comprise the new United States Navy. Each of the six were built at different seaports along the eastern coast. Constitution was built at Hartt's shipyard in the North End of Boston. Construction began in 1794 and Constitution launched on October 21, 1797. She went on her first cruise the next year as the Quasi-War with France emerged. Later she served in engagements with pirates off the Barbary coast in the Mediterranean.
The greatest glory for Constitution, however, came during the War of 1812. Constitution's crew defeated four British frigates during three separate engagements. She earned the nickname "Old Ironsides" because the cannon fire from enemy ships seemed as if they couldn't penetrate her strong oak hull.
Before and after these voyages, Constitution had to undergo constant repairs and refits. Most of that work throughout her service was here in Boston at the Charlestown Navy Yard. Established in 1800, the yard was one of six commissioned for the purpose of keeping the Navy afloat. After over 200 years in the Navy, Constitution still calls Charlestown home and relies on the same facilities for maintenance and repair.

Last updated: October 21, 2021