Old North Church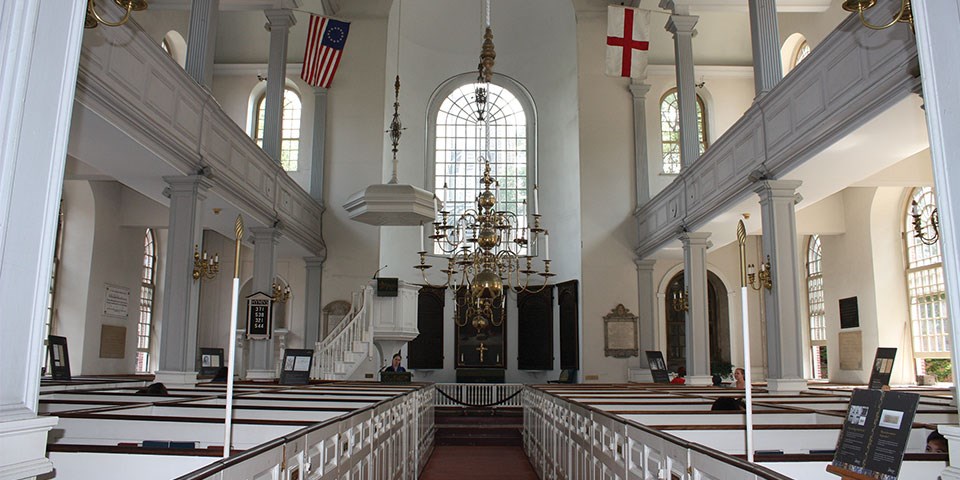 One if by land, and two if by sea...
- Henry Wadsworth Longfellow, "Paul Revere's Ride," 1860
On the evening of April 18, 1775 Robert Newman and John Pulling quietly entered Old North and carefully climbed to the top of the church's bell tower. They briefly hung two lanterns near the windows and made their escape. This signal, from the tallest structure in the town of Boston, served as an early warning that a detachment of the British Army was crossing the Charles River and heading west towards the towns of Lexington and Concord. By the end of the next night, the American Revolutionary War had begun.
Explore the role this church played in Colonial Boston by visiting The Old North Church & Historic Site.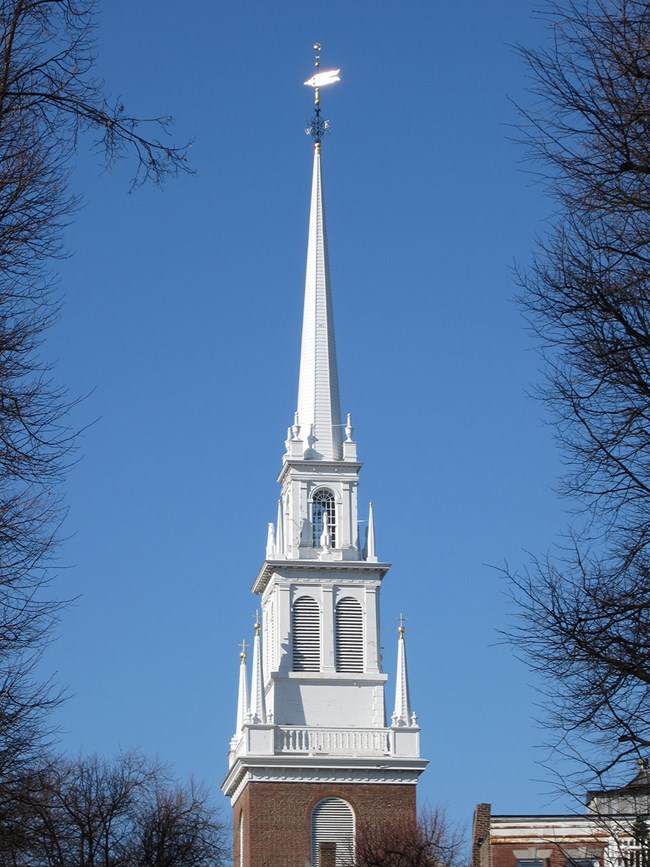 Old North's Divided Congregation
Christ Church, long known as "Old North," has deep roots in Boston's North End. Though it is remembered today as a symbol of patriot defiance, the story of Old North is a reflection of the deepening divisions between "Friends of the Government" and "Sons of Liberty" in Revolutionary Boston.
Built in 1723, Old North was an Anglican, or official church of England, rather than a Congregational, or Puritan, church. Although the Charter of 1692 required greater religious tolerance in Massachusetts, many Bostonians still feared the influence of the official Church of England. Nonetheless, many wealthy merchants, government officials, and skilled tradesmen were drawn to "Old North." The stained glass windows, expensive pews, and Georgian architecture represented a stunning contrast to the simplicity of Congregational churches like Old South Meeting House.
Despite being an Anglican church, "Old North" was different from other Church of England parishes in New England. While many people viewed Anglican churches as "tory" or "loyalist" congregations, Christ Church was split. Political and financial disputes plagued the church, resulting in the church's minister and vocal loyalist Rev. Mather Byles Jr. resigning on April 18, 1775. That same night, the church's sexton, Robert Newman, and a vestryman (lay-leader) of the church, John Pulling, entered the sanctuary to aid the patriot cause.
The Signal
According to an account by Paul Revere, on the night of April 18, 1775, he "called upon a friend, and desired him to make the Signals."1 That friend was John Pulling, and Pulling, with the assistance of Robert Newman, secretly fulfilled Revere's request. The signal was arranged just days before: One lantern if British regular troops march out of Boston by land, two if they depart by boats across the river. Revere himself was not waiting for this signal. He arranged the signal because it would be the fastest and most reliable means to send warning outside Boston. After conferring with Pulling, Revere still had to stop by his home, get on a boat, and be carefully rowed to Charlestown past a British warship. There were many opportunities when Revere could have been detained or arrested before even getting on horseback.
After the lanterns briefly hung, Pulling fled Boston to evade arrest. Newman, who lived with his mother, had British soldiers as boarders in his home. Newman had to climb through his bedroom window to avoid detection. The next day, Newman was arrested and questioned but was ultimately released. By the end of that same day, April 19, 1775 a running battle had unfolded along twenty miles of Massachusetts countryside. Thanks in part to the signals atop Christ Church, the Revolutionary War had begun.
---
"Letter from Paul Revere to Jeremy Belknap, circa 1798," Massachusetts Historical Society, https://www.masshist.org/database/viewer.php?item_id=99.

Last updated: November 2, 2022