Captain Wilbur Kelly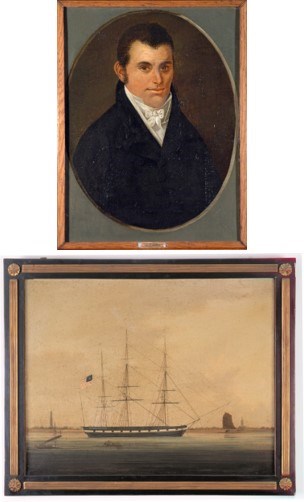 We know very little about Wilbur Kelly's early life other than he was born in 1782 probably in North Providence. His parents were of the poor working class. As a young teen he went to sea in the late 1790s. He worked in the booming U.S. domestic and international shipping industry.
By 1810, Kelly rose to the rank of captain. He was only 28 years old. That year, he also married Abby Eliza Whipple, the only daughter of a prominent Rhode Island family. Throughout the War of 1812, Kelly worked as a ship's captain for the
Brown and Ives
Company, most likely transporting goods domestically.
By 1815, Brown and Ives gave the captaincy of a new ship, the
Ann and Hope,
to Kelly. He was to voyage for Canton, China. Kelly's voyage lasted 84 days. They traveled roughly 12,400 miles. He returned with 900 tons of tea.
Captain Kelly's foray into cotton manufacturing began when he invested in the Wenscutt Mill in North Providence in 1816. Difficult economic times in the years following the War of 1812 led to Kelly losing his investment. However, in 1825 Kelly invested in the small
Smithfield Cotton and Woolen Factory
at a crossing point of the
Blackstone River
in modern Lincoln, Rhode Island.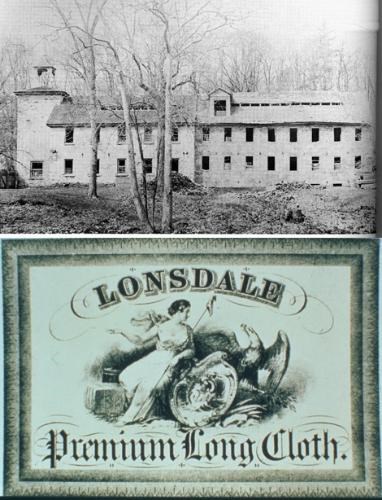 Kelly was also an investor in the
Blackstone Canal
Company. The canal company purchased the right to dig the canal through his property. This decreased the costs and time to transport raw materials in from Providence and finished products back to the Providence markets and port.
On May 18, 1826, Kelly turned over control of the mill and village to his former employers the Brown and Ives Company. Now also working in the textile industry, Brown and Ives named their textile company the Lonsdale Company. Kelly was in turn hired by the Lonsdale Company as their head agent. He earned $500 a year for his services. Kelly began to purchase land and water rights along the Blackstone River. In all, he purchased about 435 acres from Scott's Pond on the south to the Kelly dam on the north.
Kelly lived in his home on Benefit Street for the rest of his life. His work as head agent propelled the Lonsdale Company to a leadership role in New England's textile industry. By his death in 1846, the Lonsdale Company was one of New England's largest textile manufacturing companies. He rose from a poor child living in North Providence to a successful and prosperous man.
People, Places and Stories
People

Learn more about the people who helped influence the industrialization of the Blackstone River Valley

Places

Learn more about the significant places situated in the Blackstone River Valley that spearheaded the American Industrial Revolution

Stories

Learn about the stories that influenced the industrialization of the Blackstone River Valley
Last updated: July 17, 2021