News Release
Climber Rescued on North Chasm Wall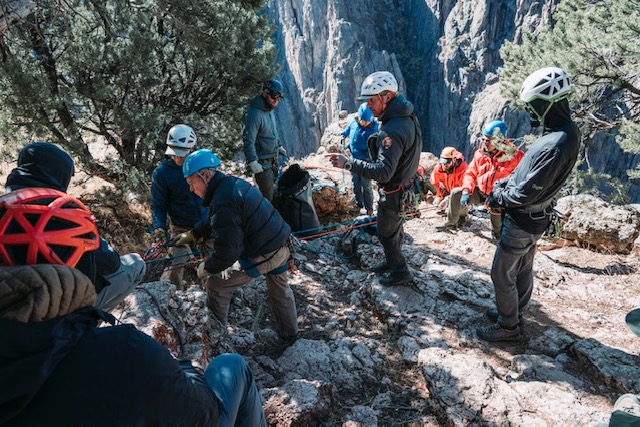 News Release Date:
October 11, 2019
Contact: Sandra Snell-Dobert, 19706412337227
On the afternoon of Saturday, October 5, Black Canyon of the Gunnison National Park rangers received a report of two climbers yelling for help on the North Chasm Wall. From the South Rim, rangers could see two climbers actively rappelling off of the Stoned Oven climbing route. 
North Rim rangers and two search and rescue volunteers responded from the North Rim via Cruise Gully to the base of the Stoned Oven route where they met the climbing party. One of the climbers, a 27 year old man from Boulder, Colorado, had fallen approximately 25 feet while leading the climb. He suffered a lower leg injury that required evacuation. Volunteers spent the night with the climbers while plans were made for an evacuation the next day. 
On the morning of October 6, rescuers lowered a litter and attendant 1,800 feet from the north rim. The patient and attendant were then raised to the rim in that litter.  A total of twenty-five personnel were on scene including National Park Service staff and volunteer search and rescue team members, Crested Butte Mountain Rescue and Ouray County Search and Rescue. The patient self-transported to medical attention for further treatment. 
The National Park Service, as well as a dedicated group of highly skilled volunteers, regularly trains and prepares for these types of complex and extremely difficult incidents.   
Last updated: October 11, 2019