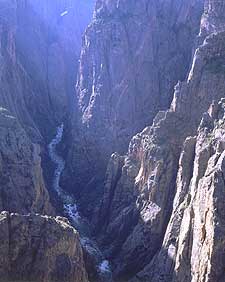 METAMORPHIC ROCK
The word "metamorphic" has its origins in the Greek language and means to transform or change. Metamorphic rocks usually start out as sedimentary, or igneous rock, but when buried deep in the earth, intense heat and pressure "cook" or "bake" them into a completely new rock. Heat and pressure are the two most important parts of this process, but time also plays a role; the longer the rock has been baked and squeezed, the greater the changes.
Rock is usually buried deep within the Earth's crust (six to eight miles, for instance) before temperatures and pressures are high enough to melt and change their physical and chemical composition. Black Canyon's metamorphic rocks have been altered to the point that little trace of the original rock remains. However, geologists suspect that the original rocks, or protoliths were sands, mud and volcanic debris that accumulated on the floor of an ancient sea. The time of metamorphism is estimated at 1.7 to 1.9 billion years ago. Gneiss and schist are examples of metamorphic rocks found in the Black Canyon. These rocks blend from one to another because of variations in the heat and pressure which occurred when some rocks were buried deeper than others.
PLEASE REMEMBER... Collecting rock specimens in Black Canyon of the Gunnison National Park is illegal.