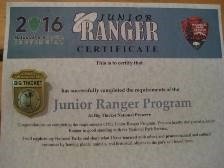 Junior Ranger Program
Kids! You can earn a Junior Ranger badge and certificate by completing a few easy, fun activities. Just pick up a free Junior Ranger booklet at the visitor center to get started. If you have just a short amount of time to spend here, you can watch a short movie about the preserve and do a scavenger hunt in the visitor center exhibits. If you have more time to spend here, you can hike a trail or explore the Big Thicket by boat. All of these activities count towards getting your Junior Ranger awards!
Web Rangers
While nothing takes the place of visiting national park areas in person, kids can learn about these areas online by becoming "webrangers". Go to www.nps.gov/webrangers to complete fun activities, earn online awards, and learn about the wide variety of resources in our national park units.