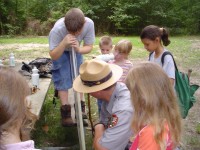 Junior Ranger Program
The visitor center at Big Thicket National Preserve has a number of exhibits showing the many ecosystems found here, as well as hands-on activities. Kids can also do activities to earn a Junior Ranger badge and certificate - just ask for a free Junior Ranger brochure at the visitor center desk. There are also a number of hiking trails throughout the preserve, ranging from a 0.3-mile loop to 15 miles.
Web Rangers
While nothing takes the place of visiting national park areas in person, kids can learn about these areas online by becoming "webrangers". Go to www.webrangers.us to complete fun activities and learn about the wide variety of resources in our national park units.