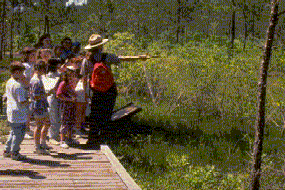 Field Trips to Big Thicket National Preserve
Big Thicket National Preserve offers several ways for educators and students to experience the Big Thicket and enhance classroom curriculum. We offer ranger-led educational field trips in the preserve, as well as off-site classroom programs. Educators may also conduct self-guided field trips for their students.
Ranger-led field trips have a group size limit, based upon the number of preserve staff available. Large groups may have to schedule field trips over multiple days. Educators planning self-guiding trips should make reservations to avoid conflicts with other large school groups who may be using preserve facilities on the same days.
To schedule a field trip or a classroom program, please contact us at (409) 951-6720, or email Mary_Kay_Manning@nps.gov.
Teacher Ranger Teacher Program
The Teacher Ranger Teacher (TRT) program is a professional development opportunity for K-12 educators. This is an 8-week summer program, requiring approximately 240 hours of work, in which teachers work with national park sites to learn about NPS resources, assist the park site with program development and educational materials, and earn three hours of graduate credit in Experiential Learning through an online course.
We encourage interested educators to go to the website below to learn more about the TRT program and opportunities for summer 2016.
Learn more about the nationwide Teacher Ranger Teacher program