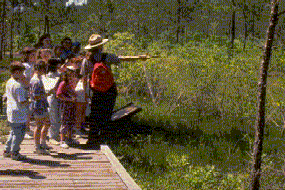 Field Trips to Big Thicket National Preserve
Big Thicket National Preserve offers several ways for educators and students to experience the Big Thicket and enhance classroom curriculum. We offer ranger-led educational field trips in the preserve, as well as off-site classroom programs. Educators may also conduct self-guided field trips for their students.
Ranger-led field trips have a group size limit, based upon the number of preserve staff available. Large groups may have to schedule field trips over multiple days. Educators planning self-guiding trips should make reservations to avoid conflicts with other large school groups who may be using preserve facilities on the same days.
To schedule a field trip or a classroom program, please contact us at (409) 951-6720, or email Mary_Kay_Manning@nps.gov. Please note that April and May are our busiest months of the year for school programs, in addition to being very hot, humid, and mosquito-y. Planning a field trip for other times of the year will give you more flexibility in dates, and will be more comfortable for the students.
Field Trip Preparation and Guidelines