News Release
Eight Days of Storytelling: 10th Annual Blue Heron Ghost Train, and 28th Annual Haunting in the Hills Storytelling Festival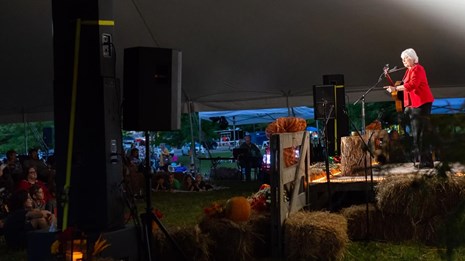 News Release Date:
September 9, 2020
Contact: Christopher Derman, 423-569-9778
Join us on September 12-16, for the 10th annual
Ghost Train
. Local storytellers, through the age-old tradition of the spoken word, will share their traditional tales from around the region. The Ghost Train event will be via social media on Facebook and Youtube. Stream videos from home on your computer or smartphone evening at 8:00 PM (ET). 
The 28th annual
Haunting in the Hills Storytelling Festival
is scheduled for September 17-19 at the 27 Twin Drive-In Theater, in Somerset, Kentucky. Enjoy three fun-filled evenings of stories. Thursday evening will be general storytelling with Friday and Saturday evenings the popular Haunting in the Hills ghost stories. The event is free and open to the public. In consideration of others to enjoy a memorable viewing experience, RVs, campers, and trailers are not allowed.
Storytelling has always been an important part of the Big South Fork community. What started as a small program for local schools 27 years ago has turned into a full day long festival with professional storytellers from around the world. 
For more information call (423) 569-9778, or visit online:
https://www.nps.gov/biso/planyourvisit/storytelling.htm 
https://www.nps.gov/biso/planyourvisit/bhghosttrain.htm 
Last updated: September 11, 2020