Blue Heron Ghost Train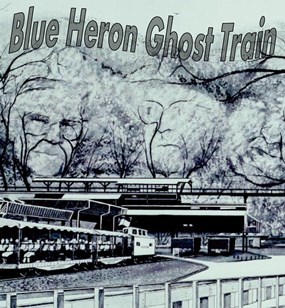 Experience the tenth annual Blue Heron Ghost Train from the comforts of your own home with your computer or smartphone! This year we will celebrate ten years of storytelling at Blue Heron with five nights of talented local storytellers recorded and shared on the Big South Fork NRRA's
YouTube
and
Facebook
pages.
The first storyteller will perform on Saturday, September 12, at 8:00 PM (ET) with a different storyteller entertaining you each night through Wednesday, September 16. Hear chilling tales from the hills and hollows of the Cumberland Plateau, experience the beauty of Kentucky and the solitude of Blue Heron & Mine-18 while enjoying music performed by the Hughett Family.
Don't miss this year's event. Get the whole family, your favorite snacks and prepare for a virtual adventure Ghost Train style!
Featured Storytellers for 2020:
Jim Buck
Joan Rodgers
Beth Killburn
Jordan & Lounicia Hughett
Robert Stephens
For additional information, call 423-286-7275.
The Ghost Train departs the Big South Fork Scenic Railway's Stearns Depot at 7:00 PM ET. There is a train fare for this activity and advanced train reservations are recommended. You may contact the Big South Fork Scenic Railway at 606-376-5330 or visit
www.bsfsry.com
.
Last updated: November 4, 2020