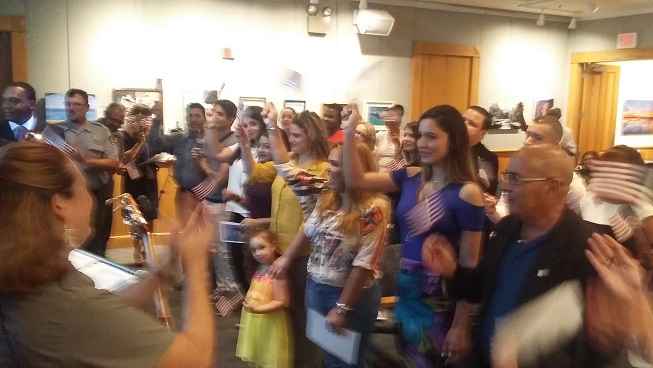 Citizenship ceremony inside the Dante Fascell Visitor Center (NPS image by Matt Johnson).
The park offers a variety of free programs and activities and most of them begin at the Dante Fascell Visitor Center, gallery and museum. The museum highlights the park's four ecosystems with exhibits, sound and video. The gallery highlights the works of contemporary local artists inspired by beauty of the park. Most of the programs occur November through May. Several films highlight various aspects of the park and provide an introduction to its wonders. Kids of all ages will find plenty to discover at the touch table, and can get started on earning a junior ranger badge.
Ask about additional indoor educational opportunities at the information desk including boater education classes. The experience and wisdom of boat captains and scientists combine in free fishing classes taught by park experts.