The Dante Fascell Visitor Center Gallery
Artists have always played a crucial role in increasing awareness and inspiring stewardship of national parks. Opened in 2002, the Dante Fascell Visitor Center gallery provides a space where contemporary artists, inspired by the beauty of Biscayne National Park and South Florida, can show their work. Past shows have included color and black and white photography, oil, acrylic, pastel and watercolor paintings, drawings, fiber, ceramics, collage and sculpture. Shows typically include a "meet the artist" reception, made possible by sponsors. The gallery is open from 9 a.m. to 5 p.m. daily. For more information, please call 305-230-1144. Subscribe to
gallery updates
with the words "ART LIST" in subject line.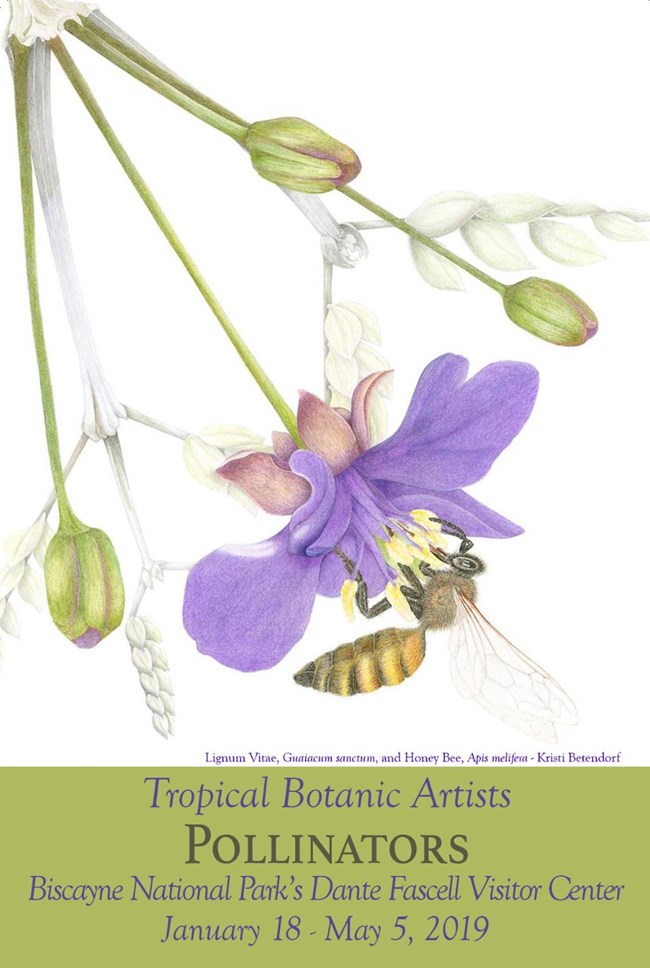 Biscayne National Park Art Exhibit Celebrates Plants and Their Pollinators

The newest exhibit in Biscayne National Park's Dante Fascell Visitor Center Gallery features 30 detailed botanical illustrations of some of South Florida's flowering plants and their pollinators. Pollinators, created by Tropical Botanic Artists, is now on display daily from 9am-5pm through May 5. On Saturday, March 30, visitors will have the opportunity to meet the artists at a free reception from 6-8pm. On the same day, complementing the exhibit opening, the Biscayne National Park Institute will offer a rare opportunity to explore the hammock and coastal areas of Biscayne's largest island, Elliott Key. The boat trip and walk will be hosted by National Park Service botanist Brooke Shamblin. Visit BiscayneNationalParkInstitute.org for pricing and more details.

This exhibition of original works of art focuses on the variety and variability of creatures that pollinate South Florida's abundant plant life. Drawing attention to these complex natural relationships, members of Tropical Botanic Artists have illustrated birds, butterflies, moths, bees, wasps, even zooplankton, with plants they are known to pollinate.

The critical role played by pollinators is well known to commercial agricultural producers and home gardeners alike. In South Florida's remaining wild, uncultivated spots such as pine rocklands, hardwood hammocks, watery glades and coastal mangroves, the connection between plants and their pollinators is crucial. These co-dependent relationships, though not always obvious, can be extremely strong. Without one, the other will not survive.

Pollinators is part of the park's Community Artists Program, started in 1997 as an outlet for the works of artists who are inspired by the beauty of Biscayne National Park. The gallery has hosted over 60 shows featuring photography, paintings and drawings in a variety of media including fiber, clay, printmaking and sculpture. The program is made possible by the South Florida National Parks Trust with additional support from The Guerra Family Foundation and The Biscayne National Park Institute.

For regular updates from the park, follow us on Facebook, Twitter and Instagram @BiscayneNPS.
Last updated: February 21, 2019