The Dante Fascell Visitor Center Gallery
Artists have always played a crucial role in increasing awareness and inspiring stewardship of national parks. Opened in 2002, the Dante Fascell Visitor Center gallery provides a space where contemporary artists, inspired by the beauty of Biscayne National Park and South Florida, can show their work. Past shows have included color and black and white photography, oil, acrylic, pastel and watercolor paintings, drawings, fiber, ceramics, collage and sculpture. Shows typically include a "meet the artist" reception, made possible by sponsors. For more information, please call 305-230-1144. Subscribe to
gallery updates
with the words "ART LIST" in subject line.

What's In A Name? New Biscayne National Park Gallery Show Highlights a Unique Twist on National Park Names

What's In A Name? is a new show of clever graphic takes on the written names of 63 national parks, and is now open in Biscayne National Park's Dante Fascell Visitor Center Gallery. The exhibit is on display from 9-5 daily from September 17 through January 2, 2022. Special events associated with the exhibit include a virtual National Parks Game Night at 7:00 pm on October 5, and an opportunity to meet the artist at an in-person reception Sunday, November 14 from 1-3 pm.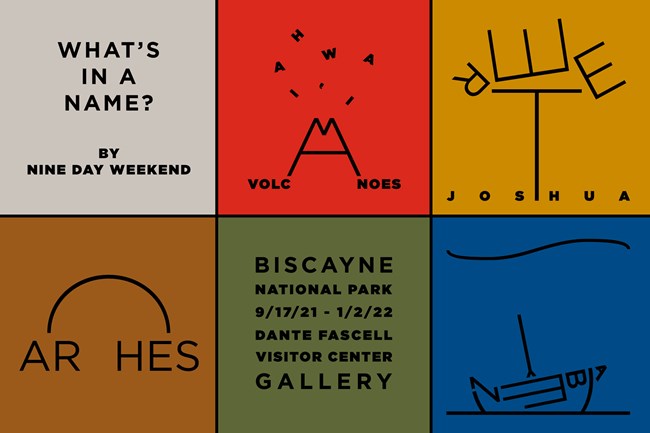 Massachusetts artist Dan Narva, working under the name "Nine Day Weekend," rearranges the letters of a park's name to depict a distinct feature of its landscape or wildlife. The words "Hawai'i Volcanoes" become an erupting volcano, the letters in "Biscayne" transform into a shipwreck, and "Joshua Tree" takes on the shape of the park's eponymous plant. "I encourage viewers to have fun "solving" each image," says Narva. "Depending on how many letters and how jumbled they are, some parks are definitely trickier to identify than others."
Narva, who studied art at Williams College, founded Nine Day Weekend on Etsy in 2016, paying tribute to a life of adventures. As a child he spent summers hiking in New Hampshire's White Mountains. At 20 he biked across America from Plymouth Rock in Massachusetts to the Oregon coast (visiting several parks along the way). Dan & his wife have begun to share their love of the outdoors with their son, whose first big trip was to five of Utah's national parks as a 2-year-old.
What's In A Name? is part of the park's Community Artists Program, started in 1997 as an outlet for the works of artists who are inspired by the beauty of Biscayne National Park. Over the years, the gallery has hosted nearly 100 shows featuring photography, paintings and drawings in a variety of media, fiber, clay, printmaking and sculpture. The program is made possible by the Alliance for Florida's National Parks and the Biscayne National Park Institute.
For more details about the exhibit, visit the park's website at www.nps.gov/bisc or contact park ranger Gary Bremen at 305-338-6584. For regular updates from the park, follow us on Facebook, Twitter and Instagram @BiscayneNPS.
Last updated: September 21, 2021