The Dante Fascell Visitor Center Gallery
Artists have always played a crucial role in increasing awareness and inspiring stewardship of national parks. Opened in 2002, the Dante Fascell Visitor Center gallery provides a space where contemporary artists, inspired by the beauty of Biscayne National Park and South Florida, can show their work. Past shows have included color and black and white photography, oil, acrylic, pastel and watercolor paintings, drawings, fiber, ceramics, collage and sculpture. Shows typically include a "meet the artist" reception, made possible by sponsors. For more information, please call 305-230-1144. Subscribe to
gallery updates
with the words "ART LIST" in subject line.
Water, Water, Everywhere…fiber art show opens in Biscayne National Park Gallery

Water, Water, Everywhere… is now on display through January 1, 2023 in the Dante Fascell Visitor Center Gallery. Collaborated on by ten fiber artists, Water, Water, Everywhere… features 20 art quilts highlighting the importance of water. The exhibit is open from 9 a.m. to 5 p.m. daily. On Sunday, November 13 from 1 p.m. to 3 p.m., the park will host a "Meet the Artists" reception featuring refreshments and a talk by the artists. Admission to the show and reception are free.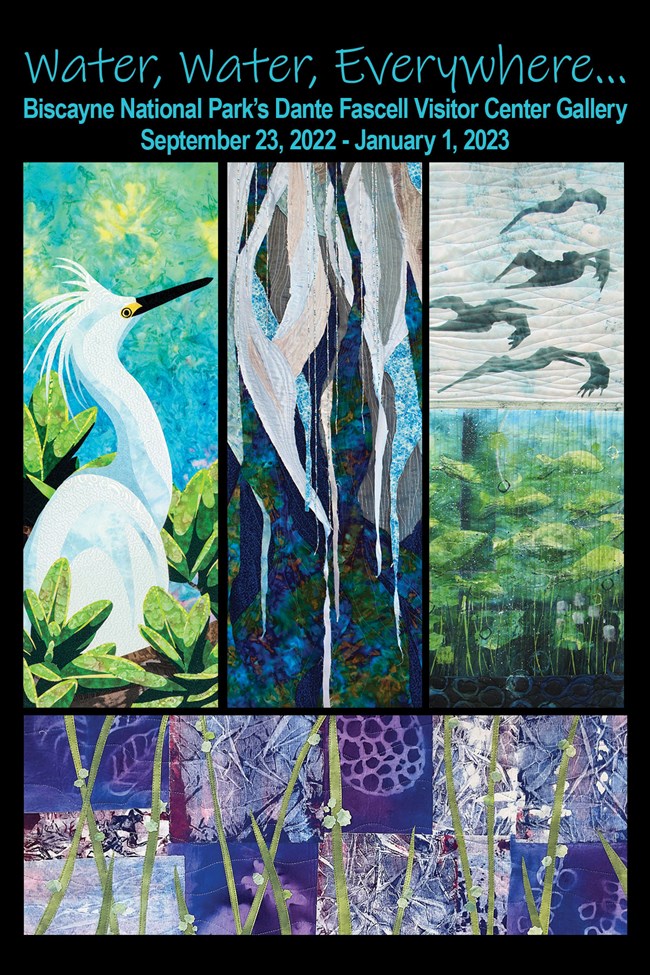 The bright, dimensional pieces feature a variety of subjects, from microscopic life to birds and other animals. Some depict aerial views, a moonrise over Biscayne Bay or the gentle falling of rain. Many of the artists take on significant environmental issues like water flow in the Everglades, red tides and oil spills on Florida's west coast, climate change and invasive species.

"As the largest marine park in the U.S. National Park System, we wanted to highlight the importance of water resources, regardless of whether that water is salty or fresh, frozen, flowing, or falling," said Park Ranger Gary Bremen, who oversees the gallery. The techniques are equally diverse, including piecework, thread painting, fabric dying and painting, applique and more.

"It is my hope that this exhibit will make viewers aware of the importance of water for all living things," said the show's curator Melani Kane Brewer, who is also one of the featured artists. "We must take greater care of how we use water."

Water, Water, Everywhere… is part of the park's Community Artists Program, started in 1997 as an outlet for the works of artists who are inspired by the beauty of Biscayne National Park. Over the years, the gallery has hosted over 100 shows featuring photography, paintings and drawings in a variety of media, fiber, clay, printmaking and sculpture.

The Community Artists Program is made possible by the Florida National Parks Association and The Alliance for Florida's National Parks.

For the accompanying media release, visit our News Release section.

For more details about the exhibit, visit the park's website at www.nps.gov/bisc or contact park ranger Gary Bremen at 305-338-6584. For regular updates from the park, follow us on Facebook, Twitter and Instagram @BiscayneNPS.
Last updated: September 29, 2022