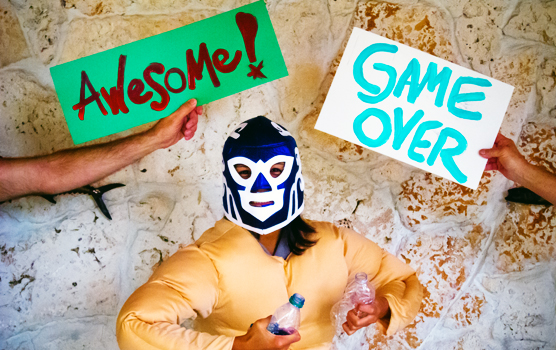 News Release Date:
January 8, 2014
Contact: Gary Bremen, 305-230-1144, x007
HOMESTEAD, FLORIDA – Marine debris washing in on Biscayne National Park's shorelines is a huge problem that staff wrestles with on a regular basis. This month's Family Fun Fest at Biscayne National Park takes that "wrestling" part to the extreme as a group of tough-as-nails wrestlers gang up to defeat the ever-present evil of too much trash. On Sunday, January 12, "Wrestling with Trash" will take place at the park's Dante Fascell Visitor Center, 9 miles east of Homestead, from 1-4 pm. The event is free and open to all. Visitors are also encouraged to ride the free Homestead National Parks Trolley to and from the event. Visit www.CityofHomestead.com/Gateway for trolley details.
"Wrestling with Trash"will feature five hands-on and engaging activity stations located around the visitor center. An additional Family Fun Fest Junior station offers an opportunity for creative play for toddlers. The 6 stations are:
El Recyclador

– Match recyclable items with the products they become in a card game.

The Reuser – Race to clean up the shoreline and get the most points for your team.

The Ultimate Upcycler

– Try your hand at creating beautiful art from real debris found on Elliott Key.

The Reducer

– Why is the Million Dollar Man so rich? Because he doesn't waste resources of course! How do your daily habits stack up to his?

Trashdown!

– A live tag-team battle for the ages as the "babyfaces" gang up on the villainous Overtaker. Will good prevail over evil? Stay tuned!

Wrestling Trash Junior –

A special station for parents with toddlers!
Participants receive a passport to get stamped at each activity station, and those who complete all five activities (or two activities for Family Fun Fest Junior participants) will earn a specially-designed button to remember the day. Earning all five buttons in a season earns a Family Fun Fest Fanatic award in April.
Upcoming Family Fun Fests this season include:
Biscayne Wintergames

– February 9, 2014 – Let the Russians have the winter Olympics because we've got something better!

Down on the Farm

– March 9, 2014 – Sea cows, seahorses, porkfish and BARN-acles!.

A Sesame Street Salute

– April 13, 2014 – The fuzzy monsters, giant birds and math-loving vampires are all back as we salute a kids TV classic!
Family Fun Fest is made possible through the donations of generous visitors and the Bobby Duryea Fund at the South Florida National Parks Trust, with additional support from the Biscayne Bay Aquatic Preserves and a host of dedicated volunteers.
The Dante Fascell Visitor Center is located at 9700 SW 328 Street, nine miles east of Homestead, Florida. Call 305-230-7275, extension 0 or visit the park's website at www.nps.gov/bisc for more information. For regular updates from the park, "like" us on Facebook at www.Facebook.com/BiscayneNPS and "follow" us on Twitter at www.twitter.com/BiscayneNPS.