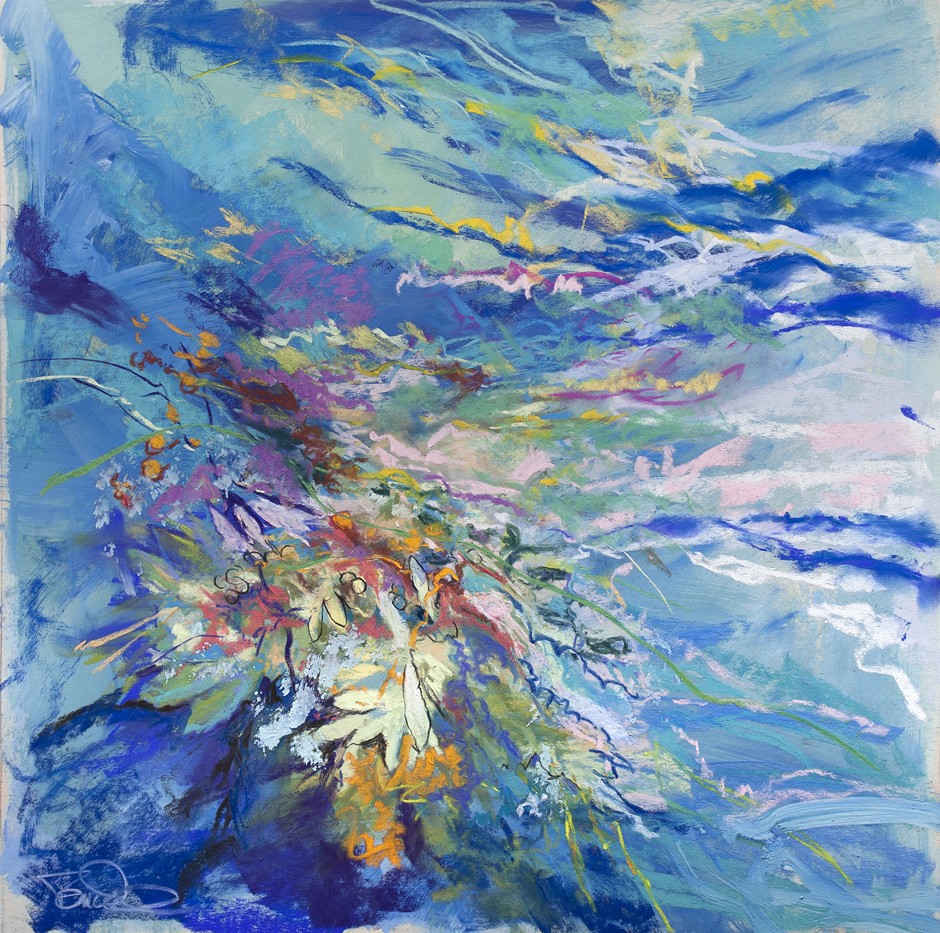 News Release Date:
May 29, 2014
Contact: Gary Bremen, 305-230-1144, x007
Painter and Miami native Tom Weinkle's newest works will fill Biscayne National Park's Dante Fascell Visitor Center Gallery starting June 6, 2014. Watercolors: Beneath the Surface features pastel impressions of Biscayne Bay, particularly that area between the water's surface and the sea floor. The show kicks off on Sunday, June 8 with a "Meet the Artist" reception — featuring refreshments and a talk by the artist — from 1:00 to 3:00 p.m. The Gallery is located at 9700 SW 328 Street, 9 miles east of Homestead, Florida. The show is open daily from 9:00 to 5:00 through September 7, 2014. Admission is free.
The show title "Watercolors" represents an exploration of the kinetic relationship between land and sea within Biscayne National Park. The paintings on display were inspired by the artist's visual study of a 36-inch space between water surface and sea floor. According to Weinkle "this sliver of Biscayne National Park is a path or transitional area that snorkelers, divers and kayakers move through in search of deeper adventures… an unexplored space between land and sea." From a thematic perspective, Weinkle's work explores four concepts: the interaction of wind and water; sea life; tidal action; and shoreline as resting place.
Tom Weinkle is a graduate of Carnegie Mellon University, where he studied and worked in the field of industrial design. Upon returning to Miami, he opened Vortex Communications, a graphic and web design firm. For him, creating art represents a more personal form of expression. His work has won regional and national awards for creativity, and he also offers "The Poetry of Pastel" workshops to help artists paint more intuitively. Other works can be viewed on his website at TomWeinkle.com.
Watercolors: Beneath the Surface is part of the park's Community Artists Program, started in 1997 as an outlet for the works of artists who are inspired by the beauty of Biscayne National Park. The program is made possible by the South Florida National Parks Trust through the generosity of Sedano's Supermarkets and the Miami-Dade County Division of Cultural Affairs and the Cultural Affairs Council, the Miami-Dade County Mayor and Board of County Commissioners.
For more details about the exhibit, visit the park's website at www.nps.gov/bisc or contact park ranger Gary Bremen at 305-230-1144, x007. For regular updates from the park, "like" us on Facebook at www.Facebook.com/BiscayneNPS , or follow us on Twitter at www.Twitter.com/BiscayneNPS.