Biscayne Bay's Wild Western Shoreline: Photography from a Canoe by Constance Mier Opens at Biscayne National Park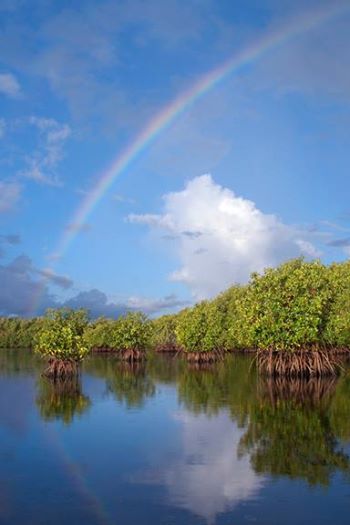 News Release Date:
March 5, 2014
Contact: Gary Bremen, 305-230-1144, x007
Constance Mier's stunning photographs of birds and other wild parts of Biscayne Bay are featured in the latest show in Biscayne National Park's Dante Fascell Visitor Center Gallery. The show features several dozen images, all taken in Biscayne Bay, and all taken from a canoe, and runs through Sunday, June 1, 2014. In collaboration with Baynanza, Miami-Dade County's annuaI celebration of Biscayne Bay, the park will host a "Meet the Artist" Reception — featuring refreshments, a talk by the artist, and (cloud cover permitting) a spectacular full moon rise over the water — will be held from 6:00 – 8:00 p.m. on Sunday, March 16, at the Gallery located at 9700 SW 328 Street, 9 miles east of Homestead, Florida. The show is open daily from 9:00 to 5:00 through June 1, 2014. Admission is free.
"The perspective – down close to water level – is just one aspect of what makes these photographs so beautiful," said the gallery coordinator, Park Ranger Gary Bremen. "Add in great composition, innovative use of natural light and insightful labeling, and this is an exhibit folks won't want to miss."
Constance Mier is a wildlife and nature photographer who derives inspiration from her canoe explorations of the wilderness. Living in Miami, Florida, she can easily access Biscayne Bay and the Everglades.As a result, her photographs offer a rare glimpse of these beautiful wilderness areas, as seen from a canoe. Her images can be seen on her website at www.ConstanceMierPhotography.com
Biscayne Bay's Wild Western Shoreline is part of the park's Community Artists Program, started in 1997 as an outlet for the works of artists who are inspired by the beauty of Biscayne National Park. The program is made possible by the South Florida National Parks Trust through the generosity of Sedano's Supermarkets and the Miami-Dade County Division of Cultural Affairs and the Cultural Affairs Council, the Miami-Dade County Mayor and Board of County Commissioners. Additionally, this show is being promoted through the Miami-Dade County Regulatory and Economics Resources Department, sponsors of Baynanza 2014.
For more details about the exhibit, visit the park's website at www.nps.gov/bisc or contact park ranger Gary Bremen at 305-230-1144, x007. For regular updates from the park, "like" us on Facebook at www.Facebook.com/BiscayneNPS , or follow us on Twitter at www.Twitter.com/BiscayneNPS.
-NPS-
About the National Park Service: More than 20,000 National Park Service employees care for America's 401 national parks and work with communities across the nation to help preserve local history and create close-to-home recreational opportunities. Learn more at www.nps.gov.
Last updated: April 14, 2015