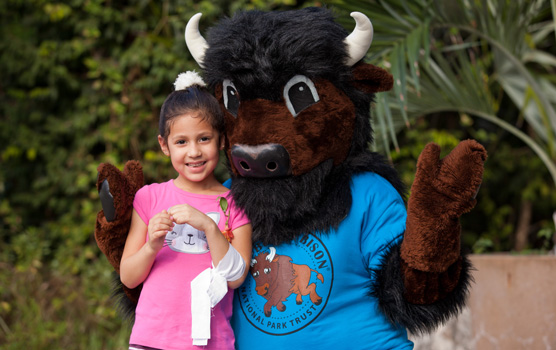 News Release Date:
December 26, 2012
Contact: Gary Bremen, 305-230-1144, x007
The 13th season of Biscayne National Park's Family Fun Fest continues on January 13th with a tongue-in-cheek look at one of the most successful film franchises of all time. From 1-4 p.m. at the Dante Fascell Visitor Center, Sea Star Wars will turn its sights on animal defenses, alien species invasions, robotic exploration of the underwater world, and more. The event is free and open to the public, and visitors are encouraged to dress the part! The Visitor Center is located at 9700 SW 328 Street, 9 miles east of Homestead
Sea Star Wars will feature five hands-on and engaging activity stations located around the visitor center. Stations include:
ROV2 and Sea3PO

- Explore a seagrass meadow using real robots built by students at the Carrollton School of the Sacred Heart!

The Cantina

- Mingle with some of Biscayne's strange wildlife in the Cantina while looking forinspiration to defend your spaceship!

I Am Your Father!

- Discover the park's animal dads who do the lion's share of raising the kids!

Darth Invaders

- It's an epic battle between the Ranger Jedi and the Empire of Invasives, but who is the real villain?

Sea Star War

- Learn sea star species and habitats in this lively card game.
Participants receive a passport to get stamped at each activity station, and those who complete all five activities will earn a specially-designed button to remember the day. Earning all five buttons in a season earns a Family Fun Fest Fanatic award in April.
Future Family Fun Fests this season also fall under the "Starpower" theme. They are:
A Salute to Hollywood

- February 10, 2013 - My Fair Lady, The Sting, Out of Africa and other "Best Picture" winners will inspire this month's stations, while Joan Oceans works the red carpet!

500 Years in the Sunshine State

- March 10, 2013 - Celebrate five centuries of Florida history as represented in the resources of Biscayne National Park.

It's SUN-day!

- April 14, 2012 - Wondering what our nearest star has done for us lately? LOTS!
Family Fun Fest's Season 13: Starpower! is made possible through generous donations from park visitors and the Bobby Duryea Fund at the South Florida National Parks Trust, with additional support from the Carrollton School of the Sacred Heart, the Biscayne Bay Aquatic Preserves and a host of dedicated volunteers.
The Dante Fascell Visitor Center is located at 9700 SW 328 Street, nine miles east of Homestead, Florida. Call 305-230-7275, extension 0 or visit the park's website at www.nps.gov/bisc for more information. For regular updates from the park, "like" us on Facebook at www.Facebook.com/BiscayneNPS and "follow" us on Twitter at www.twitter.com/BiscayneNPS.