Capture of Imperiled Butterfly in Biscayne National Park Raises Hope for a Species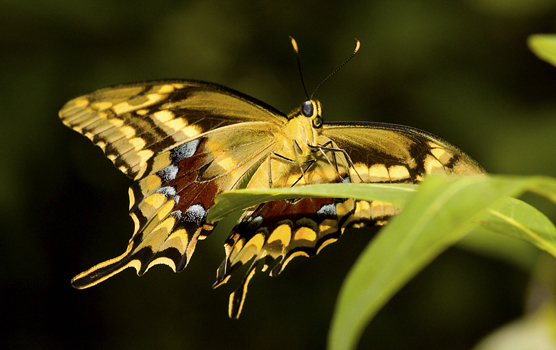 News Release Date:
June 3, 2013
Contact: Christiana Admiral, 305-230-1144, x018
University of Florida (UF) researchers netted a single female Schaus swallowtail butterfly last week on Biscayne National Park's Elliott Key, the first such capture since a multiagency workgroup that includes UF, the U.S. Fish and Wildlife Service (USFWS), the National Park Service (NPS) and the Florida Fish and Wildlife Commission (FWC). The capture raises hope that the species on the brink of extinction may someday be brought back. A single egg laid by the female will be added to several other Schaus larvae collected from the island and now in a Gainesville laboratory where researchers stand ready to start a breeding program pending discussions with agency partners.
"This single female could help bring the Schaus back from the brink," said Jaret Daniels, associate curator of lepidoptera at UF's Florida Museum of Natural History and the project's lead researcher. "The larva from her egg, combined with the other larvae we found in habitat preserved by Biscayne National Park, gives us the chance to help safeguard a portion of the remaining population."
Once prolific throughout the coastal hammocks of extreme southeastern Florida, the Schaus' decline has been variously attributed to drought, insecticide use and habitat loss from development. It was federally listed as endangered in 1984.
"The undeveloped keys within Biscayne National Park provide a last refuge for the Schaus where pesticides are not sprayed and native hosts plants are both protected and restored," said Biscayne National Park superintendent Brian Carlstrom. "The National Park Service has been working to remove non-native plants and plant thousands of host plants utilized by the Schaus on Elliott Key with funding support from the USFWS."
While the partners agree that finding one female and several larvae doesn't put concerns about this species' survivability to rest, the discoveries merit some relief and hope. "Kudos to the University of Florida team that found her and is nurturing the larvae," said Larry Williams, USFWS's Florida state supervisor for ecological services. "But our work is ongoing. We're going to keep searching as long as we can. The despair we felt last year has been replaced by hope."
Last updated: April 14, 2015