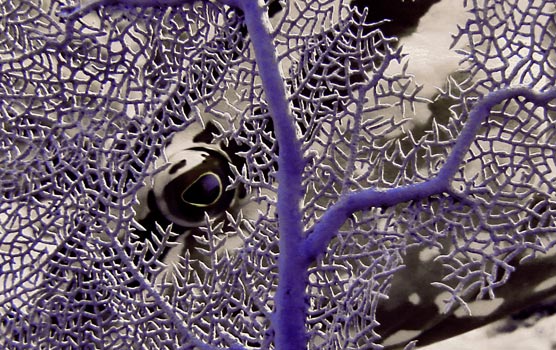 News Release Date:
November 9, 2008
Contact: Gary Bremen, 305-230-1144, x3084
Reefs for the Future is the next exhibit at Biscayne National Park's Dante Fascell Visitor Center Gallery. The show features winning photographs from the 11th International Coral Reef Symposium Photography Contest. An opening reception, with refreshments, a free calendar giveaway, and a talk by Biscayne National Park's Chief Scientist Richard Curry on the state of the park's reefs and efforts to restore them, will be held from 7:00 – 9:00 on Friday, November 21, 2008. The show will be open daily from 9 a.m. to 5 p.m. through February 22, 2009. Both the show and the reception are free and open to the public. The Dante Fascell Visitor Center is located at 9700 SW 328 Street, 9 miles east of Homestead, Florida.
Last July, thousands of coral reef scientists from around the world gathered in Fort Lauderdale for a quadrennial symposium to discuss issues facing the marine world's most diverse ecosystem. In documenting their research, many of these scientists have captured beautiful, startling and sometimes poignant images, and the best 3 received awards in 6 categories: Reef Inhabitants, Reefscapes, Wide Angle, Scientists at Work, Reefs at Risk and Macro. The photos were taken in far-flung places like Bali, Panama, the Netherlands Antilles, Egypt and Australia.
Birmingham, Alabama resident Bill Goodwin took "Best in Show" honors with his image of a Nassau grouper peering at him through a hole in a sea fan. Goodwin tells of encountering the fish while diving at Cayman Brac in 2007. "At one point during the dive, I thought this grouper had finally left us, but then I spotted it watching us through a large purple sea fan," says Goodwin. "I thought, 'Naw - he's not peeking through that hole at us, is he?' I moved a little and the fish moved just enough to keep his eye on me. Again, same result... just had to take a picture." Goodwin is proud to point out that when his win in this prestigious contest appeared in Caymanian newspapers, it happened to coincide with the Caymanian government taking up legislation to prohibit spearfishing for groupers in the country. Two weeks after his image was on front pages of newspapers across the country, the law was passed, and Goodwin's image was given credit for helping make that happen.
Reefs for the Future is part of the park's Community Artists program, and is made possible by the 11th International Coral Reef Symposium and the South Florida National Parks Trust through the generosity of Miami-Dade County's Cultural Affairs Division, The First National Bank of South Florida and Sedano's Supermarkets.
For further information on the exhibit, call 305-230-7275.