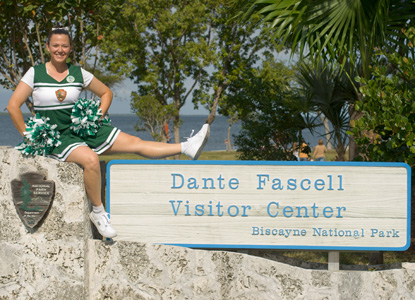 News Release Date:
December 27, 2007
Contact: Gary Bremen, 305-230-1144, x3084
Two, four, six, eight: reefs have LOTS to appreciate! Kick off the International Year of the Reef with a pep rally for Biscayne National Park's most diverse ecosystem. Reef Rally! is the theme for the first event in the park's eighth season of Family Fun Fest. The free event takes place on Sunday, January 13, 2008 at the park's Dante Fascell Visitor Center from 1:00 to 4:00 p.m. Stations located around the visitor center provide a variety of interactive and hands-on activities, including:
Coral Popsicles — Use scanners and electronic scales to determine rates of coral growth, just like real scientists!
Portable Polyp — Make a working model of a coral polyp to take home!
Race for the Reef — Follow the progress of reef development with a VERY enthusiastic cheerleader!
Chain Chain Chain! — Learn about producers, herbivores and carnivores on the reef as you build a food chain.
C.S.I. — Become a Coral Structure Investigator by studying core samples from a coral reef.
Participants will receive a paper passport to be punched at each station as they complete the activities. Those who complete all five activities will earn a special button to help remember the day, and those who earn five buttons in a season will receive a Family Fun Fest Fanatic award in May.
Family Fun Fest takes place on the second Sunday of every month from January through May. The series is made possible through a grant from the Captain Bob Lewis Boat Center Yamaha Billfish Challenge and the Bobby Duryea Memorial Fund at the South Florida National Parks Trust. Additional support this month comes from the Biscayne Bay Aquatic Preserves, the University of Miami's Undergraduate Marine Science Program, and a host of dedicated volunteers.
In 2008, each Family Fun Fest event will focus on a different aspect of the park's resources. Future events include:
Keys Kaleidoscope — February 10
Explore Biscayne's island habitats and inhabitants.
Biscayne Bay-bies — March 9
You won't find rattles, diapers or animal crackers in Biscayne Bay, but its still a nursery!
Career Fair: 1878 — April 13
What did people do for a living on Biscayne Bay 130 years ago?
All trees are terrific, but mangroves are MAGNIFICENT!
The Dante Fascell Visitor Center is located at 9700 SW 328 Street, nine miles east of Homestead, Florida. Call 305-230-7275, extension 0 for more information.