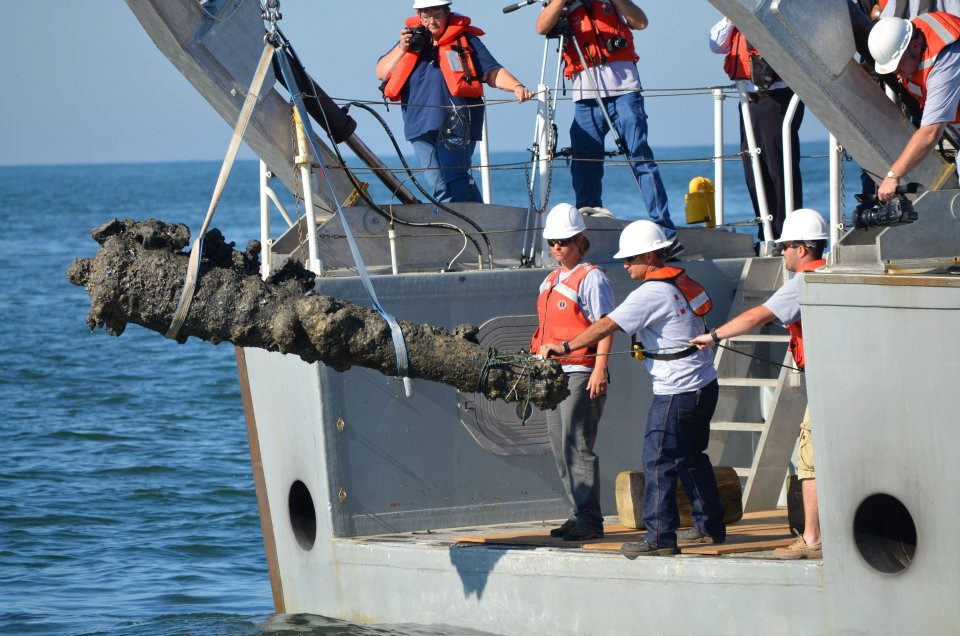 News Release Date:
May 30, 2013
Contact: Gary Bremen, 305-230-1144, x007
On June 13, 2013, Biscayne National Park's American Conservation Experience (ACE) intern maritime archaeologist Joshua Marano will discuss his involvement in the archaeological excavation of the shipwreck Queen Anne's Revenge (QAR) shipwreck. The ship was captained by the notorious pirate Blackbeard and sank off the North Carolina coast in 1718. The talk takes place at 7:00 pm at the Deering Estate at Cutler, located at 16701 SW 72nd Ave, Miami, FL 33157. Admission is free.
Originally a French slave ship named La Concorde, Blackbeard captured the vessel near the Caribbean island of Martinique in 1717.Renamed Queen Anne's Revenge, the ship became the pirate's flagship in a fleet of pirated vessels that menaced shipping and coastal towns throughout the Caribbean and long the eastern coast of North America.Following his blockade of Charleston harbor in May 1718, Blackbeard led his forces north to the coast of North Carolina, where the QAR ran aground and sank at the entrance of Beaufort Inlet in the summer of that year. It was rediscovered in 1996. The State of North Carolina decided to excavate and fully recover the remains of QAR and, while often affected by both weather and budget/resource constraints, regular archaeological investigations and excavations have been performed on the site since 1997.
First volunteering at the site in 2005, Mr. Marano was hired as an archaeological technician during the 2011 and 2012 field seasons and participated at various levels of planning, preparation, and execution of the project.Mr. Marano will be discussing the history of the pirate Blackbeard, the loss of his flagship, its subsequent rediscovery, and current archaeological investigations by the State of North Carolina while focusing on the project's unique methodologies and overall goals. Additionally, Mr. Marano will discuss the most recent discoveries made during the 2012 field season, ongoing research, and future plans for the wreck.
The talk is part of a free monthly lecture series hosted by the Deering Estate in partnership with the Archaeological Society of Southern Florida, a non-profit, volunteer organization which acts as a support mechanism for the office of the Miami-Dade County Archaeologist, highlighting unique and interesting connections to our past.This lecture series serves as a focal point for local archaeology enthusiasts and professionals in the field, and helps to promote knowledge and appreciation of native archaeological and historical sites in the South Florida area.
For further information, contact the Deering Estate at Cutler at 786-735-9505.