<i>Quattro H2O</i> Art Exhibit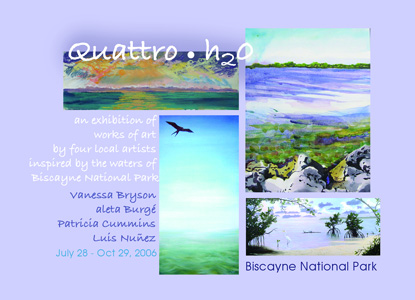 News Release Date:
July 26, 2006
Contact: Gary Bremen, 305-230-1144, x3084
Four South Florida artists have joined forces in Quattro H2O, the newest show in Biscayne National Park's Dante Fascell Visitor Center Gallery. The show, a joint venture between the park and the ArtSouth artist's community in downtown Homestead, includes 27 watercolors, oils, acrylics and pastels, all inspired by the waters of Biscayne National Park. Visitors will have an opportunity to meet artists Vanessa Bryson, Aleta Burge, Patricia Cummins and Luis Nuñez at a Bacardi-hosted reception from 7:00-9:00 p.m. on Friday, July 28 at the Dante Fascell Visitor Center, 9700 SW 328 Street, Homestead. The show is open daily from 9:00 – 5:00through October 29. Admission is free.
The four artists involved in the project all maintain studios at ArtSouth, a 3 ½ acre campus featuring artist's studios, gallery and performance spaces, a gift shop, sculpture garden and classrooms. Individually, they have shown their work in a variety of venues across the United States and abroad. In addition to the 27 original works on display, the opening reception will feature additional works projected in the gallery, creating an ever-changing tableau of color and sound.
Vanessa Bryson, a native of England, paints vivid watercolors that seem so appropriate to her often translucent subject matter. Aleta Burge, originally from New Orleans, depicts the often-abstract melding of water and sky. New York City native Patricia Cummins works include distinctive long, narrow pastels on wood, perfectly scaled to the park's seascapes. Cuban-born Luis Nuñez captures great detail (and a bit of whimsy) in his oil paintings of birds, manatees and mangroves.
Quattro H2O is made possible through the support of the South Florida National Parks Trust, the First National Bank of South Florida, the Miami-Dade County Department of Cultural Affairs, the Cultural Affairs Council, the Mayor, the Miami-Dade County Board of County Commissioners and the Miami Beach Cultural Arts Council. The reception is hosted in part by Bacardi through a direct partnership with the artists and ArtSouth.
The Dante Fascell Visitor Center is located nine miles east ofHomesteadat 9700 SW 328 Street. For more information, call 305-230-7275, x0.
Last updated: April 14, 2015