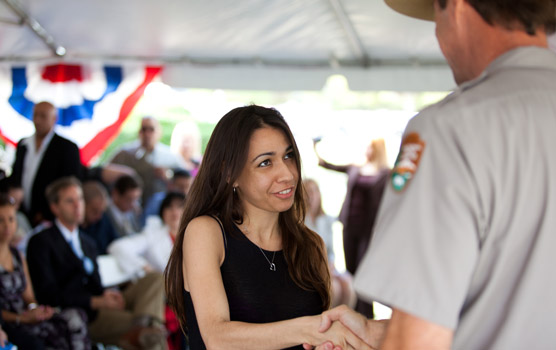 News Release Date:
December 4, 2012
Contact: Gary Bremen, 305-230-1144, x007
HOMESTEAD, FLORIDA - On December 9 and 10, 200 individuals will become US Citizens at Biscayne National Park…a place that now belongs to them as it does to all Americans. The ceremonies, open to the public, take place at Noon on Sunday, December 9 and at 10 a.m. on Monday, December 10 at the park's Dante Fascell Visitor Center, located 9 miles east of Homestead at 9700 SW 328 Street.
The National Park Service (NPS) and Citizenship and Immigration Services (CIS) established a formal partnership several years ago to host naturalization ceremonies in the nation's most treasured places, its National Parks. Biscayne National park hosted a similar ceremony last February, and the success of that event led to an expansion of the program funded by a grant from the South Florida National Parks Trust. "National parks speak to who we are as a people and as a Nation," said Acting Superintendent Sula Jacobs. "Biscayne National Park is an ideal setting for such an important event."
The Sunday ceremony will be a special one, primarily for children whose parents naturalized after they were born. Immediately following the event at 1:00 p.m., the park will kick off the 13th season of its' multiple award-winning Family Fun Fest. The theme for this popular event (which changes every month) will be "American All Stars" and will highlight great Americans commemorated in other National Parks across the nation in hopes of inspiring these brand new Americans to aspire to greatness as well.
The keynote speaker at Monday's ceremony will be Lloyd Miller, widely considered to be the "father" of Biscayne National Park. Miller describes himself as an ordinary citizen who worked with many other ordinary citizens to fight two major development projects on south Biscayne Bay. That fight led to the establishment of Biscayne National Monument (the park's predecessor) in 1968. Miller is fond of quoting Margaret Mead, who said "never doubt that a small group of thoughtful committed citizens can change the world; indeed it's the only thing that ever has."
After the ceremony, the park's visitor center will be open with museum, films, an art exhibit and canoe and kayak rentals. Visitors are encouraged to bring a picnic lunch and enjoy the day by the water. Those wishing to attend the ceremony as spectators should plan to arrive early, as parking will be located at neighboring Homestead Bayfront Park with free shuttle transportation provided.
For more information on the ceremony, contact Gary Bremen at 305-230-1144, x007, or visit the park's website at www.nps.gov/bisc. Details on Family Fun Fest can be found at www.nps.gov/bisc/parknews/american-all-stars-family-fun-fest.htm . For more information on Citizenship Ceremonies in National Parks, visit www.nps.gov/aboutus/newcitizens.htm. For regular updates from the park, "like" us on Facebook at www.Facebook.com/BiscayneNPS and "follow" us on Twitter at www.twitter.com/BiscayneNPS.