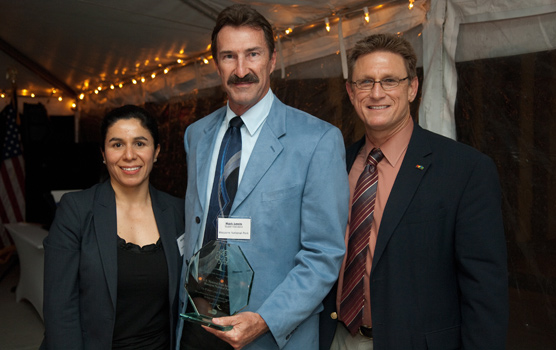 News Release Date:
April 24, 2012
Contact: Gary Bremen, 305-230-1144, x007
On Thursday, April 19, 2012, Miami-Dade County awarded its 2012 William Lyman Phillips Award to Biscayne National Park. The award, presented at the Mayor's Reception of the 2012 Great Park Summit, is given for excellence in park, recreation and conservation open space planning and design in Miami-Dade County.
"This year's selection for the William Lyman Phillips Award acknowledges Biscayne National Park for its multiple benefits to Miami-Dade County and particularly for the economic value it provides to surrounding communities from spending by park visitors and by supporting more than 400 jobs in the area," said Jack Kardys, Director of Miami-Dade County Parks, Recreation and Open Spaces Department.
"We are honored to receive this award from our partners at Miami-Dade County," said Biscayne National Park Superintendent Mark Lewis. "Planning the management of a 173,000 acre marine park certainly has its challenges, especially considering the wide diversity of opinions on the best way to proceed. This award is yet another validation that our efforts are on the right track."
Lewis was referring to the ongoing General Management Plan (GMP) process, which during a 60-day public comment period last year received overwhelming support for a long-term strategy to protect the park's resources through use of a no-take Marine Reserve Zone covering a small portion (about 7%) of the park. The marine reserve zone has been controversial among some anglers, but over 90% of public comments support a marine reserve zones to provide an unparalleled opportunity to swim, snorkel or dive an intact, vibrant coral reef ecosystem. The goal of the GMP is to preserve and protect the park's coral reefs, seagrass beds, shipwrecks and other resources, as well as provide for a balance of recreational opportunities, including boating, swimming, fishing, diving, and snorkeling.
The award is named for American Landscape Architect William Lyman Phillips. His best known projects include Bok Tower Gardens in Lake Wales, Florida, and Fairchild Tropical Botanic Garden, Matheson Hammock Park, Crandon Park and Royal Palm State Park (the nucleus of today's Everglades National Park) in Miami-Dade County.