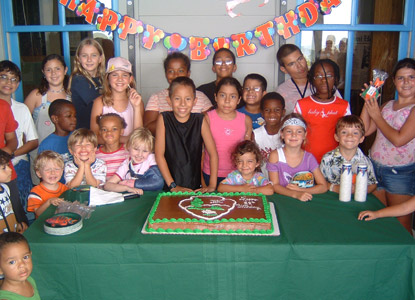 News Release Date:
August 13, 2009
Contact: Gary Bremen, 305-230-1144, x007
Celebrate the National Park Service's 93rd birthday with cake, a piñata for the kids, and the South Florida premiere of the new Ken Burns film This is America. Burns is America's foremost documentary filmmaker, and his 6-part, 12-hour The National Parks: America's Best Idea will premiere on public television stations nationwide on September 27. The free program, made possible through a partnership with the South Florida National Parks Trust, kicks off at 1:00 with the documentary screening, followed by the piñata and birthday cake at 2:00. The event takes place the park's Dante Fascell Visitor Center, located 9 miles east of Homestead, Florida at 9700 SW 328 Street.
This is America is a 45-minute subset of the longer documentary that details some of the "untold stories" uncovered in the ten years of research that led to the creation of the documentary — stories of diverse people making a difference in protecting specific park units. One of the people featured is Lancelot Jones, who once owned much of the Keys property now at the southern end of Biscayne National Park.
The film will also be screened at 11:00 and 2:00 at Biscayne National Park on September 26 in honor of National Public Lands Day. Additionally, the Broward County North Regional Library (located at 1100 Coconut Creek Boulevard, in Coconut Creek, Florida) will host a screening, followed by a ranger-led discussion of the meaning of National Parks in modern society on Sunday, September 20 at 2:00. For additional information on any of the above events, call 305-230-7275.