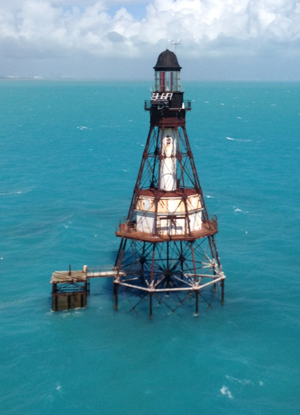 News Release Date:
October 16, 2012
Contact: Charles Lawson, 305-230-1144, x067
Contact: Gary Bremen, 305-230-1144, x007
On October 2, 2012, Biscayne National Park accepted ownership of the historic Fowey Rocks Lighthouse. The 134-year old cast and wrought iron lighthouse was transferred, at no expense, from the US Coast Guard to the National Park Service under the authority of the National Historic Lighthouse Preservation Act of 2000 (NHPLA). The park and representatives of the U.S. Coast Guard will celebrate the transfer of the lighthouse in a ceremony to be held at Biscayne National Park's Dante Fascell Visitor Center on Sunday, October 21 at 2 p.m..
The lighthouse will be joining an inventory of historic structures already cared for by the park that includes the buildings in the Boca Chita Key National Historic District and ruins of homesteading settlements on many of the park's islands. The lighthouse is now the oldest, largest, and most iconic of these structures.
Construction began on the Fowey Rocks Lighthouse in 1875, and it was completed and lit in 1878. It has been warning mariners off the northern end of the Florida Reef Tract ever since. It is the second oldest standing structure in South Florida (excluding the Florida Keys); only surpassed in age by the Cape Florida Light on Key Biscayne, which the Fowey Rocks Lighthouse was built to replace. The Fowey Lighthouse is intimately tied to the history of Biscayne National Park and the maritime history of South Florida. It was designed and built by the United States Lighthouse Board and managed by that same agency until it was disestablished in favor of the United States Lighthouse Service in 1910. The Lighthouse Service maintained the light until 1939 when it merged with the United States Coast Guard. The US Coast Guard continued to staff the lighthouse with keepers until it was automated in 1972. In 2010, the Coast Guard nominated the lighthouse for inclusion on the National Register of Historic Places, the first step in their process of excessing historic lighthouses via the NHLPA and making them available to preservation organizations and the NPS.
Because of the historic significance of the lighthouse and its location within the boundary of Biscayne National Park, the NPS chose to exercise its option under NHLPA and request a direct transfer of the structure. The National Park Service intends to maintain the lighthouse in accordance with the Secretary of the Interior's Standards for the Treatment of Historic Properties and has initial plans in place to complete repairs that will stabilize the structure, protect it from further deterioration, and potentially provide for visitor access in the future. It is currently closed to visitation because of safety concerns.
For additional information about the park, visit www.nps.gov/bisc. For regular updates from the park, "like" us on Facebook at www.Facebook.com/BiscayneNPS , or follow us on Twitter at www.Twitter.com/BiscayneNPS.