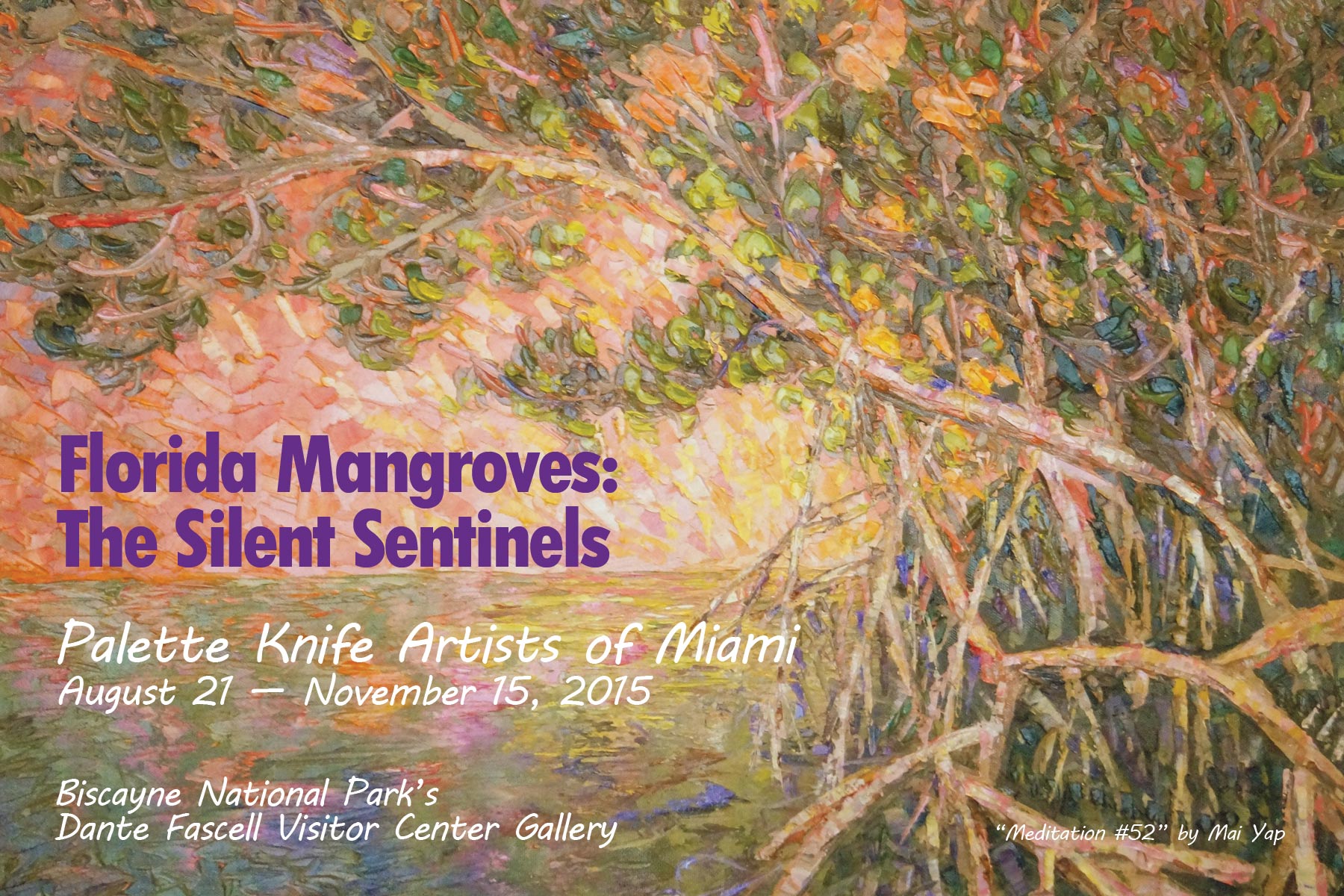 News Release Date:
August 18, 2015
Contact: Matt Johnson, 786-335-3679
Contact: Carissa DeCramer, 786-335-3616
HOMESTEAD, Fla. ---Thick, bold strokes of paint on canvas make the latest show at Biscayne National Park's Dante Fascell Visitor Center Gallery literally stand out from other shows. The Palette Knife Artists of Miami's latest show is "Florida Mangroves: The Silent Sentinels," showing daily from August 21 through November 15, 2015. An opportunity to meet the artists, enjoy refreshments and watch a demonstration in this unusual medium takes place on Sunday, August 23, from 1-3 pm at the gallery, located at 9700 SW 328 Street, 9 miles East of Homestead, Florida. The event will double as a celebration of the National Park Service's 99th birthday, which takes place on Tuesday, August 25. Admission is free. 
The Palette Knife Artists of Miami have found inspiration in the very soul of the Florida mangroves. These strange trees form cluster families of trunks, roots and leaves in unusual and tortuous forms. But they are more than ornaments of the coastline. Above the bay waters, they stand firm protecting the land; beneath, under water, their roots offer sustenance to marine and plant life. They are the first line of defense in hurricanes and tropical storms. These plants thrive in salty water and their branches and roots are a refuge to birds, fish and all the countless creatures that inhabit the mangrove ecological system.
In the hands of the Palette Knife Artists of Miami, the only group that paints entirely with knives, the mangroves take on a new phase: they become transformed on canvas, in rich colors, dramatic textures and abstract forms. These nine artists have portrayed the mangroves through their own eyes, always respecting the authenticity of the sentinel trees. In silence they grow but should they speak, their voices would be soft but, oh so strong! They stand in wait, prepared and courageous, not knowing when they will be called to protect, but ready, watchful.
The technique of painting solely with knives in lieu of paintbrushes allows these artists to convey the drama and strength of the mangroves. Paint is laid on the canvas in thick layers giving the work dimension and depth. Colors are vibrant and true; strokes are bold and daring. As are the mangroves. 
As artists, we have gained a deep respect and admiration for the Silent Sentinels, these trees whose importance has frequently been overlooked by many.
"Florida Mangroves: The Silent Sentinels" exhibit is part of the park's Community Artists Program, started in 1997 as an outlet for the works of artists who are inspired by the beauty of Biscayne National Park. The show is made possible by a grant from the Miami-Dade County Department of Cultural Affairs and the Cultural Affairs Council, the South Florida National Parks Trust, and Sedano's Supermarkets. 
For more information about Biscayne National Park please visit the park website at www.nps.gov/bisc or follow the park on Facebook at www.facebook.com/biscaynenps, Twitter at www.twitter.com/biscaynenps or Instagram at www.instagram.com/biscaynenps.
---NPS---
About the National Park Service. More than 20,000 National Park Service employees care for America's 408 national parks and work with communities across the nation to help preserve local history and create close-to-home recreational opportunities. Learn more at www.nps.gov.