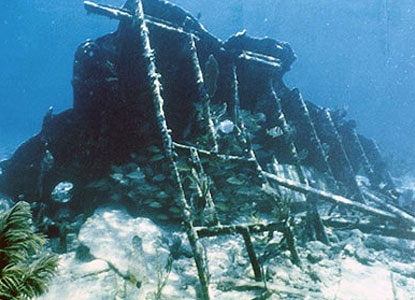 News Release Date:
November 21, 2006
Contact: Brenda Lanzendorf, 305-230-1144, x3112
Contact: Brenda Altmeier
After nearly 5 years of negotiations, managers at Biscayne National Park and the Florida Keys National Marine Sanctuary have signed a Memorandum of Agreement (MOA) that will facilitate the protection of shipwrecks and other submerged cultural resources. The MOA addresses ways in which the two Federal agencies can partner to enhance social science research, resource protection and public information and education surrounding submerged archaeological sites, objects and associated records.
"Relic collecting and treasure hunting are still quite prevalent in the waters of both the Park and the Sanctuary," said Brenda Lanzendorf, the park's Archaeologist and Cultural Resources Manager. "Through this partnership, we will make significant inroads into preserving these vulnerable, nonrenewable resources." Although similar agreements exist between these two agencies for protecting seagrasses, coral and other natural resources, this agreement for shipwreck preservation is unique.
Hundreds of shipwrecks and many other submerged archaeological sites are scattered across the two areas, with dozens of them located along the 30 miles of shared jurisdictional boundary. Both agencies are guided by the Federal Archaeology Program, but until the signing of the MOA, the two agencies worked independently. Managers hope that this cooperative effort will help reveal the stories of a common maritime heritage.