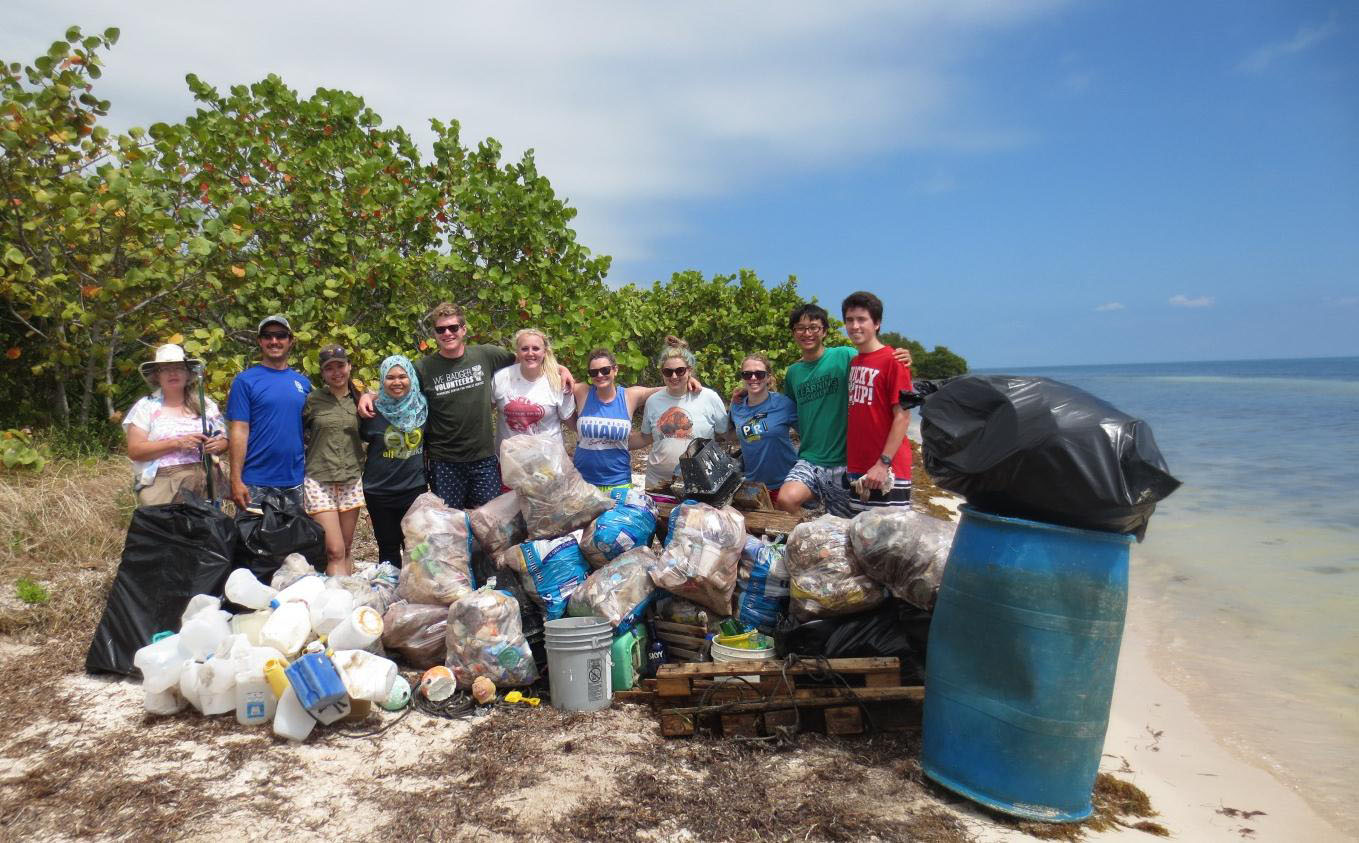 News Release Date:
April 14, 2014
Contact: Matt Johnson, 786-335-3679
HOMESTEAD, FLORIDA – Biscayne National Park's popular Alternative Break program for college students experienced one of the most successful seasons ever. The season was exceptional because volunteers removed a record of over 13,000 pounds of trash from park shorelines, and along with the college student participants, South Florida residents were involved in the beach clean-ups. Altogether, students from 20 different colleges, as well as locally based volunteers, helped clean and restore sea turtle nesting beaches in the park and remove tons of marine debris.
"We made big strides this year towards including more local volunteers who are now much more aware of the environmental issues occurring in their own back yard," said program coordinator Nicholas Sanzone.
Marine debris, from local as well as international sources, gradually accumulates in the park with incoming tides. The debris blocks threatened and endangered sea turtles from nesting on park beaches. Removing this debris provides sea turtles with a better shot at nesting success, boosts the number of sea turtle hatchlings that make it to the open water, and makes the beaches more accessible and attractive for park visitors. In the past few months, tons of debris, much of it bulky and lightweight plastic, was removed from the park by 252 volunteers. Together with program coordinators Katherine Sinsky and Nicholas Sanzone, the volunteers worked more than 2,500 hours.
Thousands of volunteers have helped restore park beaches and improve the nesting success rates for sea turtles since the park's Alternative Break program was established a decade ago. The program was sponsored this year by Macy's and the South Florida National Parks Trust, the park's official, non-profit partner. The funding helped pay for supplies, boat transportation and two program coordinators who plan and supervise field operations. Additional support was provided by the Coastal Cleanup Corporation (run by George and Suzy Pappas), Terry Helmers and Professor Mark Chiappone of Miami-Dade College.
For more information about Biscayne National Park, please visit the park website at www.nps.gov/bisc, and follow the park on Facebook at www.facebook.com/biscaynenps, and Twitter at www.twitter.com/biscaynenps.
-NPS-
About the National Park Service: More than 20,000 National Park Service employees care for America's 401 national parks and work with communities across the nation to help preserve local history and create close-to-home recreational opportunities. Learn more at www.nps.gov.