Miami Blue Butterflies Reintroduced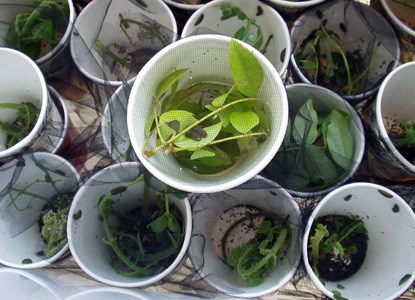 Date:
September 18, 2006
Contact:
Paul Ramey
, 352-846-2000, x218
Contact:
Elsa Alvear
, 305-230-1144, x3007
University of Florida researchers from the Florida Museum of Natural History's McGuire Center for Lepidoptera and Biodiversity will release several hundred captive-bred Miami blue butterfly caterpillars into the wild in Biscayne National Park on Wednesday Sept. 20, 2006, weather permitting. The release on Elliott Key is part of one of the nation's most productive endangered species breeding programs, developed to pull the Miami blue butterfly from the edge of extinction.
Due to loss of coastal habitat, the State of Florida lists the nickel-sized Miami blue as an endangered species and the butterfly is one of the most imperiled insects in the United States. Florida Museum Lepidoptera researchers are working to recover the Miami blue to ensure it remains a part of Florida's rich mix of native fauna.
"This is a joyous event, and yet another important step forward to help ensure that the Miami blue remains a part of the south Florida landscape," said program director Jaret Daniels, an assistant professor of entomology in UF's Institute of Food and Agricultural Sciences and a lepidopterist at the McGuire Center. "We are extremely optimistic that the success of the breeding and research program will directly lead to successful population restoration."
Next week marks the second release of Miami blue larvae this year. Researchers also released about 400 caterpillars Aug. 23 on Elliott Key and are hopeful follow-up surveys will document adult butterflies. "Previous years' attempts to establish the butterfly on the island were unsuccessful," said Biscayne National Park's resource manager Elsa Alvear. "That is not unusual in species reintroductions, but we have high hopes for the success of the 2006 releases."
Elliott Key lies about 7 miles from the mainland and is accessible only by boat. The 1,650-acre key contains gray nicker bean and balloon-vine "host plants," which the larvae eat. The host plants occur there naturally and the location is ideal for releasing butterflies because the National Park Service does not spray for mosquitoes in Biscayne National Park, said Alvear.
Miami blues prefer pine rock lands, beach scrub and tropical hardwood hammock habitat. Threats to the butterfly's continued survival in the wild include impact from hurricanes or freezes, illegal collecting, low genetic diversity and an increasing lack of natural habitat.
"National parks are generally not managed for single species, but rather for the protection of entire ecosystems," said Mark Lewis, Biscayne National Park superintendent. "The Miami blue butterfly was once part of the park, so reintroducing this endangered species helps restore the natural system."
Following Hurricane Andrew in 1992, researchers failed to locate any Miami blue butterflies in South Floriida and the species was feared extinct. But in 1999, about 50 of the butterflies were discovered in Bahia Honda Key State Park in the Florida Keys where their total habitat area was about 1 square mile.
Florida Museum researchers began the Miami blue captive breeding program in 2003, and today it is one of the nation's most productive endangered species breeding programs, yielding more than 25,000 butterflies in captivity.
The Florida Museum, along with community partners, will host the inaugural Florida Butterfly Festival in Gainesville Oct. 14-15. Visitors can witness the Miami blue captive breeding program first-hand during the festival. Visit www.flmnh.ufl.edu/butterflyfest/schedule.htm for more information.
Last updated: April 14, 2015