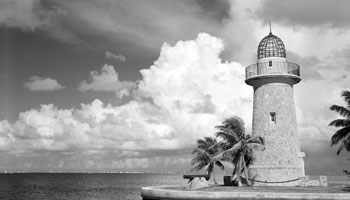 News Release Date:
August 5, 2007
Contact: Gary Bremen, 305-230-1144, x3084
Florida: A Sense of Wonder, the newest exhibit in Biscayne National Park's Dante Fascell Visitor Center Gallery, features large-format, black and white photographs of the park and nearby areas by Marilyn Brown. The show runs August 10 through November 25, and is open daily from 9 a.m. to 5 p.m.. There is no admission fee. An opening reception will be held at the Gallery from 1:00 to 3:00 p.m. on Sunday, August 12. Refreshments will be served.
A longtime South Florida resident, Brown has been using her antique 4" x 5" view camera to create handcrafted, gelatin silver photographs for over a decade. In an age of digital photography and computer-enhanced images, Brown's work hearkens back to a simpler time, but the images themselves are timeless reminders of the natural beauty that abounds in South Florida. Every photograph is carefully set up with Brown huddling under a black veil, looking at an inverted image. There is no focus, no flash, no f-stop. There is a lot of patience involved, though, as she waits for the perfect cloud to roll into place, for just the right amount of sparkle in the waves. Watching her work is truly witnessing a master. Samples of her work can be viewed on her website at www.MarilynBrownPhotography.com.
On Friday, August 10, Brown will talk about her work on the South Florida Today show on NBC-6. The show airs at 10:00 a.m., and is also available as a live webcast at http://www.nbc6.net/southfloridatoday. Park visitors attending the opening reception can also meet the artist, hear her speak about her work and have an opportunity to bid in a silent auction to benefit the park's Community Artists Program.
Florida: A Sense of Wonder is made possible through the support of the South Florida National Parks Trust and the First National Bank of South Florida. The reception is made possible in part through the support of Sedano's Supermarkets, and Biscayne National Park's volunteers.
The Dante Fascell Visitor Center is located nine miles east of Homestead at 9700 SW 328 Street. For more information, call 305-230-7275, x0, or visit the park's website at www.nps.gov/bisc/.