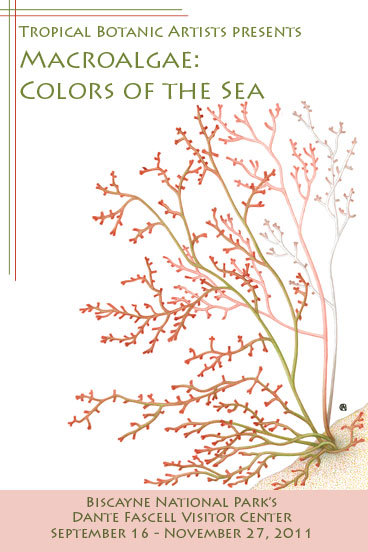 News Release Date:
September 5, 2011
Contact: Gary Bremen, 305-230-1144, x007
Contact: Donna Torres, 305-297-9942
Contact: Pauline Goldsmith, 305-774-7390
The Tropical Botanic Artists, in collaboration with Biscayne National Park and the Florida International University Department of Biological Sciences, will present an exhibition entitled Macroalgae: Hidden Colors of the Sea at Biscayne National Park's Dante Fascell Visitor Center Gallery from September 16th to November 27th, 2011. An opening reception will be held from 1-3 p.m. on Sunday, September 18, at the Dante Fascell Visitor Center located at 9700 SW 328 Street, 9 miles east of Homestead, Florida.
The display will include 30 fine quality botanical watercolor paintings and 3 herbarium display frames representing the three categories of local macroalgae - green, red, and brown - found by researchers from FIU's Marine Macroalgae Research Center in Biscayne Bay during BioBlitz 2010; an ecological event conducted at Biscayne National Park in May 2010 and sponsored by the National Geographic Society.
The exhibition will blend together the studies of science and art, a practice steeped in a long tradition. "I think most people really discount algae as not being all that interesting," said Elizabeth Lacey, an adjunct professor in FIU's Marine Macroalgae Research Lab, and chief scientific advisor to the project. "Everyone loves dolphins and fish and turtles, but I hope people will gain a new appreciation for algae when they see the incredible diversity and beauty of these plants through the work of these extraordinary illustrators."
Adding an element of history to the show during the opening reception on September 18, the park will also host a rare display of 2 albums of pressed algae created by prisoners at Fort Jefferson in present-day Dry Tortugas National Park. Pressing sea moss (algae) onto cards was a common hobby in the 19th century. Historical accounts of both soldiers and prisoners at Fort Jefferson reference "pressing mosses" as an activity to alleviate boredom and to earn extra money. Even Dr. Samuel Mudd, one of the Lincoln conspirators and Fort Jefferson's best-known prisoner, participated in the activity. The algae books from Dry Tortugas date to about 1864, and were given to Capt. H. D. Brown of the 110th N.Y. Volunteers as a wedding present. The display is made possible by the National Park Service's South Florida Collections Management Center located at Everglades National Park.
The Tropical Botanic Artists are a collective of local artists established in Miami, Florida in 2006 to pursue the beauty of tropical plants through art. Its members come from all walks of life and each brings a unique viewpoint to their work. They share a love of the natural world and it is reflected in their admiration for botanical subjects. They hope that their viewers will be encouraged to take a moment to observe the wonders of minute detail in plants, in this case macroalgae, and bring these new powers of observation into everyday life.
Following the Biscayne National Park show, the Tropical Botanic Artists plan to take the exhibition on to other centers of interest this winter and spring. To date, Everglades National Park, NOAA's Florida Keys EcoDiscovery Center in Key West, Tropical Audubon Society's Doc Thomas House in South Miami, and Hollywood's Anne Kolb Nature Center are slated to host the show.
 
Macroalgae: Hidden Colors of the Sea is part of the park's Community Artists Program, started in 1997 as an outlet for the works of both established and emerging artists who are inspired by the beauty of Biscayne National Park. The program is made possible by the South Florida National Parks Trust through the generosity of Sedano's Supermarkets and the Miami-Dade County Division of Cultural Affairs and the Cultural Affairs Council, the Miami-Dade County Mayor and Board of County Commissioners. Additional support for this show comes from the Florida International University Marine Macroalgae Research Laboratory, the FIU Alumni Association, and the National Park Service's South Florida Collections Management Center.
For more details about the exhibit, visit the park's website at www.nps.gov/bisc or contact park ranger Gary Bremen at 305-230-1144, x007. For more about Tropical Botanic Artists, visit www.TropicalBotanicArtists.com. For regular updates from the park, "like" us on Facebook at www.Facebook.com/BiscayneNPS, or follow us on Twitter at www.Twitter.com/BiscayneNPS.