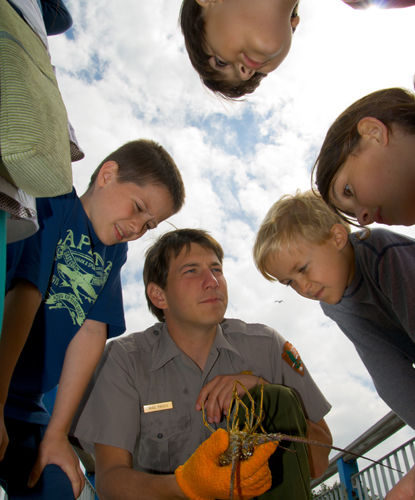 News Release Date:
January 4, 2009
Contact: Gary Bremen, 305-230-1144, x3084
The 1960s brought America some great music, classic television and literature…and the largest marine park in the National Park System. The ninth year of Biscayne National Park's Family Fun Fest salutes the tumultuous decade with zany look at the pop culture of the era in relation to the park. The free event takes place on Sunday, January 11, 2009 at the park's Dante Fascell Visitor Center from 1:00 to 4:00 p.m. Stations located around the visitor center provide a variety of interactive and hands-on activities, including:
Meet the Beetles!— Become a dung beetle as you maneuver a big ball of you-know-what through an obstacle course!
7 Stranded Castaways— Help Gilligan and his friends solve a mystery in a bottle!
Wild Kingdom — Marlon and Jim discover some of Biscayne's "dangerous" wildlife!
Where the Wild Things Are— Learn about animals that live inside of other animals!
Wood Stock — Discover the secrets hidden in a tree's rings!
Participants will receive a paper passport to be punched at each station as they complete the activities. Those who complete all five activities will earn a special button to help remember the day, and those who earn five buttons in a season will receive a Family Fun Fest Fanatic award in May. Participants are encouraged to add to the festive atmosphere with their own 1960s costumes.
Family Fun Fest takes place on the second Sunday of every month from January through May. Due to a conflict with Easter, the April event will take place on the first Sunday of that month (April 5). The series is made possible through a grant from the Captain Bob Lewis Boat Center Yamaha Billfish Challenge and the Bobby Duryea Memorial Fund at the South Florida National Parks Trust. Additional support this month comes from the Biscayne Bay Aquatic Preserves and a host of dedicated volunteers.
Future Family Fun Fest events in the 2009 season are:
Amazing Adaptations — February 8
How do Biscayne's plants and animals thrive in their environment?

Legacy from the Past — March 8
Celebrate Florida Archaeology Month with a look back at those who came before.

Spring has Sprung! — April 5
What's the real story behind those bunnies, baskets and colored eggs?

A Salute to Mom! — May 10
Celebrate Mother's Day with a tribute to some of the park's best parents!
The Dante Fascell Visitor Center is located at 9700 SW 328 Street, nine miles east of Homestead, Florida. Call 305-230-7275, extension 0 for more information.